Good causes breakfast showcases local organisations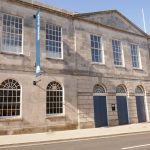 Many members turned out to support our November Good Causes Breakfast, which was held at Shire Hall Historic Courthouse Museum in Dorchester.
The event was a collaboration with Dorchester Town Council to provide a platform to showcase local charitable and 'not for profit' organisations.
As well as a sumptuous breakfast and networking opportunities, members were also able to find out about the following organisations with a view to supporting one or more with a Christmas donation or as your featured charity in 2019.
Those organisations showcased were:
Below are some fantastic photos taken during the Good Causes breakfast by our official photographer, Siân Court of SKC Photography.
Don't miss our annual President's Breakfast
Our annual President's Breakfast which will be held at Athelhampton House on Tuesday 11th December (7.45-9.30am), which will include a Victorian carol singers plus a short performance by the  New Hardy Players. There will also be the annual raffle (tickets £5 each) with prizes donated by members and the proceeds donated to local charities. Click on forthcoming events for more details and to book your place.