Summer Lodge Hotel & Spa are going green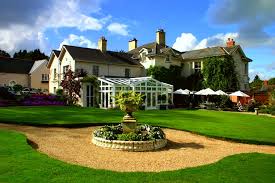 Following the Chamber's plastic-free breakfast Summer Lodge Country Hotel and Spa has announced it is taking more steps to reduce its use of plastics. The hotel is striving to be as green as possible, with every department having its own CSR (Corporate Social Responsibility) champion.
So far, they have reduced their use of single-use plastics, but will not stop until the hotel is completely free of them. The CSR ambassadors meet regularly to discuss the next steps needed to create a greener hotel and community.
Implementing greener initiatives
In the bar and restaurant, the hotel has replaced plastic straws with paper alternatives,  plastic cocktail stirrers with reusable ones, and plastic toothpicks with wooden toothpicks. The hotel now uses Fairtrade loose tea instead of tea bags, which contain small amounts of plastic. For those wishing to take home delicious treats from the restaurant, they only use eco-friendly cardboard boxes, which can be fully recycled.
To further their goals of plastic reduction, staff are looking into ways to reduce consumption of cling film and other plastics in the kitchen.
In the guest rooms, they have eliminated the plastic wrap on the sanitised TV remotes and replaced them with a cardboard sleeve.  In addition,  they have replaced the traditional plastic cotton bud tube with a card version and provided a biodegradable bamboo toothbrush to guests.
A spokesperson for Summer Lodge said: "We are proud that we no longer supply single-use plastic water bottles but instead use glass alternatives which can be easily recycled. The promotion of reusable water bottles is something the Summer Lodge is passionate about. We have reusable bottles which our guests can purchase, and which we fill for guests before their outings. Bathroom toiletries and slippers provided a lot of wastage for Summer Lodge, but not anymore. Our used slippers and toiletries are collected by a local children's workshop who make paint out of our soap and incredible creations from our slippers. We currently have a wonderful piece of artwork from them in our staff house."
Cleaning products have also come under the spotlight and the hotel now using an eco-refill dispensing system. The hotel remains fully committed to eliminating single-use plastics from the hotel as well as reducing waste output and our carbon footprint as much as possible.