Dorchester Christmas Cracker 2018
 It's that time of year again!
Dorchester Christmas Cracker
Thursday 6th December 2018
The date has been set, Santa's been told and we're busy making sure the magic will happen again this year.  We will be updating this page regularly with information and news as it becomes available so keep an eye out and don't forget to find and Like us on Facebook.
We hope you will all join us for late night Xmas shopping,  seasonal entertainment  and other delights.
With grateful thanks to our Main Sponsor

We have our own Cracker Facebook Page…
Please visit for regular updates    Like Us on Facebook
This page will soon be updated with details of the amazing things we have planned for Christmas in Dorchester in 2018
Last year, we had 2 very special guests to turn the lights on at 6:30pm outside St Peter's Church.  TV's popular Fire and Police pups tookto the stage to press the magic button to illuminate Dorchester and were available for photographs afterwards.
This year, rumour has it, a certain bear from Peru may make an impromptu visit … but keep checking back to find out if it's true!
The churches in High West Street will open their doors from 5pm with a carol service in St Peter's and we're hoping the Rock Choir will perform again in Holy Trinity.  Both churches will be serving mulled wine and mince pies.
There will be a lantern parade from 6:00pm from Brewery Square with children carrying lanterns made in a special workshop.
There will be a special "Victorian Christmas" taking place in Shire Hall Historic Courthouse Museum in High West Street with mulled wine and mince pies available from the Shire Hall Cafe and the New Hardy Players singing carols in Victorian costume.  Judge Santa will be holding court, checking children's performance over the year and giving out presents to those that have been good.
Lots of other entertainment throughout the evening to celebrate the official start of Christmas in Dorchester.
The Christmas Craft Fair will again be in the Corn Exchange
Address: Corn Exchange, Municipal Buildings, High Street East, Dorchester, Dorset, DT1 1HF
The CRAFT FAIR will be in the Corn Exchange from 4pm to 8pm.  Discover that ideal Christmas gift from the range of finest crafts, home accessories, jewellery, clothing and home-made items on display from selected local traders.
Applications are now being taken for a place at the Craft Fair.  If you make and sell your own products, tables are £17.50 each.  Please contact Sandy Jordan on santiques1@yahoo.com if you'd like to apply for a table.
There will also be a Dorchester Christmas Cracker Magazine to promote the event and encourage visitors to Dorchester to shop, eat and to enjoy festive treats and the other delights the town has to offer.
Please contact secretary@dorchesterchamber.co.uk if you're interested in advertising or have a Xmas event to share.
Programme of 2017 Events and Road Closures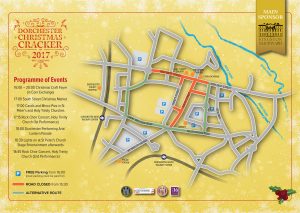 Click on the map above for information on road closures
We'll be updating this section as soon as 2018 plans for the evening have been finalised.  The 2017 programme above is a guide as timings for this year will be similar.  The roads this year will close from 3.30pm and the roads closed will be the same as last year.  Free parking will again be from 4:00pm in the town's main car parks but will not include Dorset County Council car parks.  Please check the map for free parking.  Road parking will again have to be paid for.
Enjoy the evening, but in the meantime, to whet your appetite, click her for a reminder of last year's fun-filled event
Click here to read the Dorchester Christmas Cracker 2017 Magazine