Dorchester Christmas Cracker
It's that time of year again!
Thursday 8th December 2016.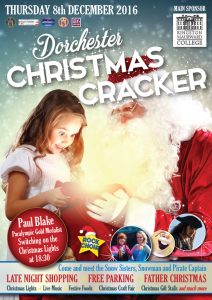 Programme of Events
15:00 Free parking (road parking must be paid for)
16:00-20:00 Christmas Craft Fair in the Corn Exchange
17:00 – South Street Christmas Market
18:00 – Dorchester Performing Arts
18:30 – Christmas Lights turned on at St Peter's Church

Stage entertainment afterwards

18:45 – Santa's FREE Grotto Bus (outside Lloyds bank)
18:45 – Rock Choir concert, Holy Trinity Church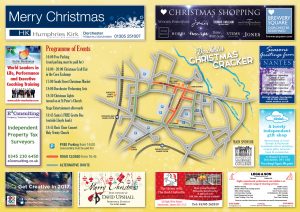 Click on map above for information on road closures
Yes, it's that time of year when Dorchester lights up with festive cheer, Christmas Cracker Night is Thursday 8th December 2016.
Paul Blake, Paralympic gold medal winner will turn on the Christmas Lights this year from St Peter's Church at 6:30pm. With Santa and Special Guests in attendance. We will also have the entertainment and music to keep you and the family entertained.
Once again we will have the Christmas Market put together in partnership with the Anonymous Travelling Market. I hope you enjoy these stalls in South Street. We will also have for the third year a Craft Fair in the Corn Exchange from 4pm. A chance to find those unusual Christmas gifts and support local businesses.
So please make your way into town on Thursday December 8th and enjoy all Dorchester has to offer. The shops will be open later for Christmas shopping. Shop staff will be encouraged to enter into the Christmas spirit by donning fancy dress, and the order of the evening will be fun, fun, fun.
When times are not as easy as they might be, we all need something to lift our spirits. The lights will be shining above the streets, Christmas music will fill the air, and laughter, the best medicine of all, will be in plentiful supply. It just remains for me to wish you, your families, and your friends a very happy, warm, and safe Christmas and a prosperous New Year.
Steve Bulley, President – Dorchester Chamber for Business
Grateful thanks to this year's  Main Sponsor of Dorchester Christmas Cracker 2016