It's that time of year again …
Dorchester Christmas 2020

Although there will be no Dorchester Christmas Cracker this year, the event will return in 2021 (Provisional date Sunday 12 December) We intend to make this an all day event with more stalls and entertainment for the whole family. We anticipate closing High East/West Street to create a safe area for vendors to have stalls

We have our own Cracker Facebook Page…
Please visit for regular updates    Like Us on Facebook
Keep an eye on this page and Facebook for details of any amazing things we have planned for Christmas in Dorchester in 2020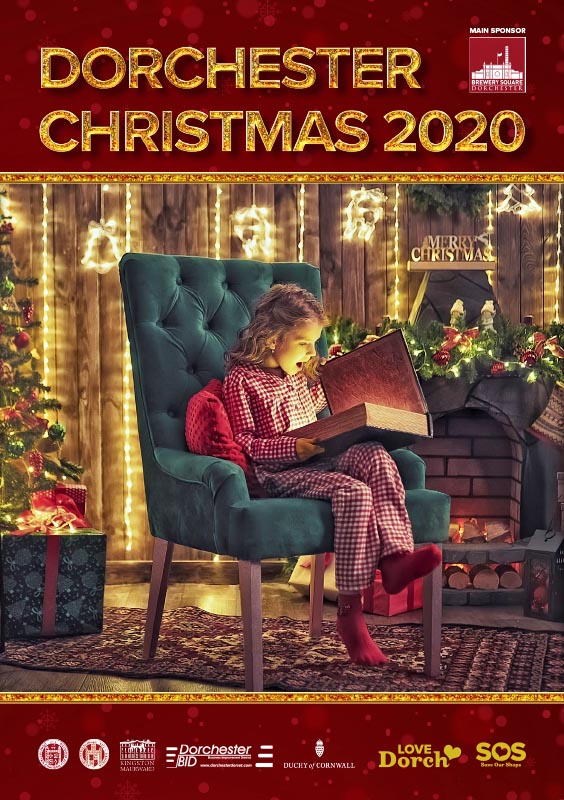 However, Christmas in Dorchester definitely HAS NOT been cancelled.
We've put together the Dorchester Christmas 2020 Magazine in place of the usual Christmas Cracker Programme.
It has messages from key figures in the town and also plans for making this year special as well as details of church services, etc.
The focus is very much on Shopping Local this year.  Not only to keep safe and protect our community from the virus, but also to protect our local businesses.  Spending in local shops keeps the money in the local community.
Think Local – Act Local – Spend Local
Let's hope we get back to a normal Christmas next year, but in the meantime, enjoy the Dorchester Christmas 2020 Magazine and hopefully you will reap the benefits of perhaps a more peaceful Christmas.
DORCHESTER WINDOW TRAIL – 12 DAYS OF CHRISTMAS COMPETITION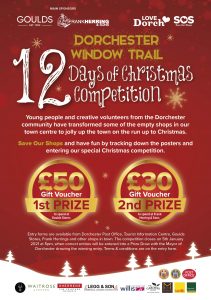 Dorchester Town Council and Dorchester Chamber for Business have partnered with property agents and landlords of local shops to create a Dorchester Window Trail – 12 days of Christmas Competition!
Young people and creative volunteers have set to work to jolly up the town for Christmas by creating 'pop up' Xmas displays in some of our currently empty shops. The community has really pulled together to enhance Dorchester and create a positive vibe.Local shoppers and families are invited to wander round Dorchester's town centre and shopping arcades to track down the 12 days of Christmas, each poster featuring a letter. Write the letters onto the competition entry form, solve the anagram, attach a minimum £5 receipt from any Dorchester shop and pop into the special post box in Goulds store at 22-23 South Street or Dorchester Post Office in Trinity Street.Entry forms are available from Dorchester Post Office, Tourist Information Centre, Goulds Stores, Frank Herring & Sons, and other shops in town.
The competition closes on 5th January, when correct entries will be entered into a Prize Draw with the Mayor of Dorchester drawing the winning entry. First prize will be a £50 gift voucher to spend in Goulds Stores and second prize will be a £30 gift voucher to spend in Frank Herring & Sons.
It is testament to the generosity of our businesses that have been keen to support the initiative. Chamber members such as Legg & Son, kindly offered to clean the windows of the vacant premises in Hardye Arcade; Poundbury Gardens donated Christmas trees and decorations to fill in the gaps, Sherrens Printers printed the posters and competition forms; Frank Herrings and Waitrose donated gift vouchers and goody bags to reward the groups.
A warm thanks to everyone that got involved:https://www.gouldsstores.co.uk/
A Partridge in a Pear Tree – Manor Park School
Two Turtle Doves -St Osmund's Middle School
Three French Hens – Window Wanderland
Four Calling Birds – Damers First School
Five Gold Rings – Prince of Wales School
Six Geese-a-Laying – Dorchester Middle School
Seven Swans-a-Swimming – Dorchester Art Club
Eight Maids-a-Milking – Dorchester Town Council
Nine Ladies Dancing – Dorchester Youth Theatre
Ten Lords-a-Leaping – Dorchester Youth & Community Centre
Eleven Pipers Piping – Milton Abbey School
Twelve Drummers Drumming – Dorchester Central Scout Group
With grateful thanks to our sponsors: Goulds Stores, Frank Herring & Sons, Sherrens Printers, Antelope Walk, Maxgate Properties, Savills, Symonds & Sampson, Legg & Son, Waitrose & Partners and Willis Commercial.
Download the Competition Form
Dorchester Window Competition_A5