It's that time of year again … or is it!
Dorchester Christmas Cracker
Although the date has been set and Santa's been told, there is unfortunately some confusion about whether we'll be able to make the magic happen this year.
We will be updating this page regularly with information and news as it becomes available so keep an eye out and don't forget to find and Like us on Facebook.
We will keep you posted as soon as we know or any late night Xmas shopping, seasonal entertainment, festive food and other delights.
With grateful thanks to our Main Sponsor Kingston Maurward

We have our own Cracker Facebook Page…
Please visit for regular updates    Like Us on Facebook
Keep an eye on this page and Facebook for details of any amazing things we have planned for Christmas in Dorchester in 2020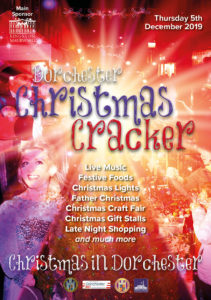 In view of coronavirus and COVID-19, the Cracker Committee will possibly try to plan a virtual Xmas Cracker this year.
Happy memories of last year's Cracker night when Dorchester's churches opened their doors with mulled wine, mince pies and the festive atmosphere in St Peter's and Cracker night carols in United Church in South Street
Many of Dorchester's shops stayed open for late night shopping and the outdoor market was bigger than ever. Lots of entertainment throughout the evening and many got a free Elfie Selfie at the Wessex FM bus, with costumes provided by Alter Ego Fancy Dress. What a fabulous way we celebrated Christmas in Dorchester!
Lots of other entertainment happened throughout the evening to celebrate the official start of Christmas in Dorchester.
A reminder of last year's event:
Map & Programme 2019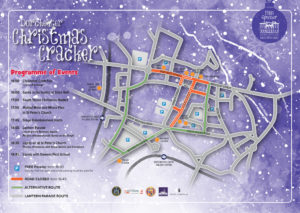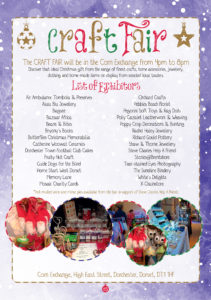 The Craft Fair was in the Corn Exchange. There were Christmas gifts from a range of hand-made ceramics, jewellery, clothing, toys, home-made items and tasty treats. Hot mulled wine and mince pies was available from the bar.