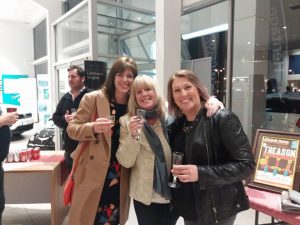 Dorchester Chamber for Business held a successful social evening on Thursday, 25th January, with a Scottish theme for Burns Night hosted by the VW dealership and Chamber member, Heritage of Dorchester. It was wonderful to see such a good turn out from both new and current Chamber members.  The Brewhouse & Kitchen provided a delicious hot spiced Celtic punch and samples of their very own brewed ale, which complemented the atmosphere and added to the relaxed and friendly gathering.
Local group Tatterdemalion provided a traditional feel, kitted out in tartan, with a performance of Scottish melodies and a fun rendition of 'Ode to the Haggis' read by Alastair Simpson to open the buffet, produced by The Posh Partridge, which of course included a taste of haggis.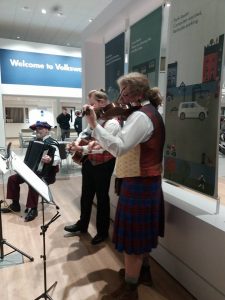 There was even a surprise twist when Rob Goodwin from Champagne Films won the prize draw of a new VW car for the weekend and generously auctioned it for charity! Ros Nelmes of Fordington Gin was the highest bidder with £150, to be donated to Macmillian Cancer Support.
Steve Farnham, President of the Dorchester Chamber said "It was wonderful to see so many members at our Burns night event. It was a lovely evening.  We try to offer our members a variety of networking events and this was certainly one with a difference!"