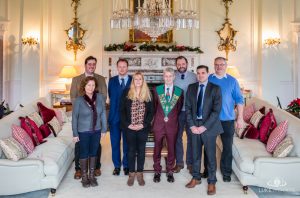 It''s been a record year for the Dorchester Chamber for Business with membership peaking at 154 and most events being sold out.  The breakfasts have remained very popular and we are now limited to venues that can hold the increased numbers. We regularly see around 60 members attending which is a healthy percentage of the overall membership. We don't want to be complacent so please keep feedback coming to us on any of our events.
Aside from the temporary traffic lights, it has been another positive year for Dorchester.  Part of the long-awaited DTEP scheme was finally undertaken with work now complete at the Great Western Road / Trinity Street / Weymouth Ave junctions and the predestination of the bottom of South Street.  We still have very few unoccupied retail shops and most that come free are re-let very quickly.
It was wonderful to see the Dorchester Carnival take place after fears that it would not happen due to lack of volunteers. It was an amazing community event and we should celebrate with the small team of hard-working volunteers who made it happen.  Dorchester also made its mark on the world map with the town's' first Dorchester Marathon. It was very well run and supported bringing awareness and revenue into the town. I believe this event will continue to grow and become a mainstay annual event.
The Chamber's relationship of respect and co-operation with the Town's BiD continues to ensure the town's businesses and retailers are well served. I''m personally very proud of this relationship as in many towns the BiD and Chamber try to compete which normally means duplication of services which wastes resources.
We also have a great relationship with our Town Clark Adrian Stuart. As a town, we are very lucky to have someone like Adrian who has shown real vision and unconventional thinking. It is likely with council changes the Town Councils responsibilities will increase and we are well placed to have a say on behalf of our members.
The future of the town is also very exciting with Brewery Square continuing to develop and growing a previously low night-time economy into a thriving and buzzing place to enjoy an evening meal.  The arts and tourism sector has also been supported by the exciting work happening here in the museum, as we have just heard.  Also, the Shire Hall project has moved on dramatically this year.  Finally, the Maltings Arts Centre in Brewery Square will be the icing on the cake for the arts in Dorchester.  The work continues apace in Poundbury bringing both homes and business space to the development and we have the latest Charles Street proposals and the recently announced Fairfield Car park project.
As a Chamber to date we have taken the view to be open to development within the town on an individual basis but remained steadfast that the parking issues must be resolved and we should not lose overall parking spaces.
My personal view, please indulge me.  Is that I have doubts over Charles Street after so many false starts and that we should be excited that a major retailer wants to invest in the town and we should see all the full facts before being instantly negative. This is more interesting as both Weymouth and Poole have announced more investment recently and we don't want to fall behind. There has been criticism in the past about the LEP and the amount of money spent in the West. We need to Think Big if the West is to get its share of revenue. The LEP competes nationally for funding and the Government wants to see big projects that include infrastructure and open the West to new opportunities.  Imagine a bid from the LEP to dual carriageway the A35 to the Bakers Arms roundabout from Bere Regis and the A31 to the East allowing better access into the West. We have the new Enterprise Park at Winfrith but to really make that work surely there is a need to use land adjacent for housing to provide affordable accommodation for the new jobs that will be created. Who knows maybe the A37 to Yeovil could be upgraded as well.  It might sound like a dream but why should the West not think big.
The future
Back to the future for the Chamber. I'm confident we will see the new Council format approved and the combination of Bournemouth / Poole become a unitary authority leaving the other areas as the Rest of Dorset or as I say "the Best of Dorset".  This will see challenges and lobbying on services likely to be on our agenda as driven by you, our members.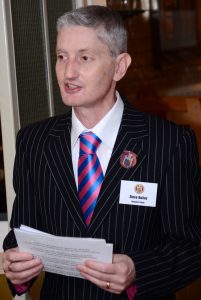 It''s been an honour to serve as President for a maximum three-year term and I'm delighted to be staying on the Executive committee as I''m passionate about Dorchester.
We have also said goodbye to Nick Bunting this year who stood down and we lose Lucy Bowden who has decided to leave the Executive. Thanks to Lucy's vision we have the retain campaign which still forms part of our future direction. I would also like to thank all of the committee who have worked tirelessly behind the scenes to ensure the Chamber runs smoothly. Steve Farnham has been a supportive Vice President throughout the year, 'Thank You'.
It is also appropriate to thank our longstanding treasurer Jon Edge who is fantastic at balancing the books and Miranda who has been a dedicated secretary and really driven our membership and events.  We are lucky to have her.
Congratulations to our new president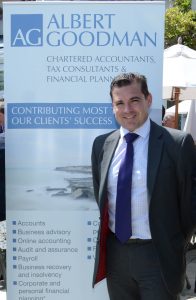 Warm congratulations to Steve Farnham (left), who has been elected to succeed me as President.  I know he will do a great job.  I wish him every success and feel confident that the Chamber is safe in his hands.
He will be supported by Peter Greenaway as Vice-President, who has been a very proactive member of the Executive for the past two years.
Finally, thanks to you, our members. You make the Chamber what it is and long may you continue to do so.