Free Da Kolour is a celebration of Frida Kahlo's iconic face.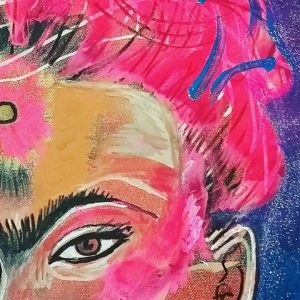 Bridport-based Artist, Sas Dite focused on aspects of her beauty has been perceived and still changes every day.
With her unique play on colour and light; her paintings change with the image they project, too. By day they are bold, yet by night they come alive, exploding into shimmering apparitions with the use of UV paint, tailored beats for the aural senses, combined with choice lighting to enhance the experience.
Sas Dite's style is heavily influenced by urban street art and pop culture and profoundly states:
"My deepest of feelings through colour. I am not brave enough to dress flamboyantly like Frida, so I use my canvas as an outlet to go crazy and break all the rules. Bright colour, to me, is freedom"
Although Frida Kahlo was an incredibly powerful artist and woman, it is quite simply her face which inspires rather than her story, necessarily. This singular approach has Sas up to interpret her face in multiple different styles and across a wide variety of mediums.
This collection is volcanic: the images erupt into a plume of transformation, of coming of age, of femininity, wild emotions, imperfections and unique beauty.
Displayed at the Chapel in the Garden in Bridport – doors open on Friday at 7:30pm, with a quiet hour for guests and fans. Then at around 9:30, special guest Fri3ndship will be singing her new EP live. There will also be music by local artist Chiman 101.
There will be a small mocktail bar, plus one free Prosecco per guest. Vegan cakes and nibbles will be on offer and Sas Dite will be there herself, meeting and greeting, answering your questions.
Entry is FREE, although a donations box will be on site. Original art and limited edition prints will be on sale.
The event page: https://www.facebook.com/events/453802728399076/