Business leaders in Dorset have charted a course for a post-COVID-19 recovery that champions investment in skills, young people, infrastructure and low-carbon solutions.
During one of Dorset Chamber's new Business Leaders' Events, via Zoom, there were many shared thoughts on the challenges facing companies and organisations, and the further measures required to help them as the county's economy emerges from the crisis.
Fifty-eight participants from a range of sectors attended the 'Back to Business' event hosted by Dorset Chamber and Dorset Local Enterprise Partnership (LEP).
Setting the context, Ian Girling, chief executive of Dorset Chamber, highlighted the need to maintain and strengthen business support to enable continued access to finance, mentoring and retraining opportunities.
Ian Girling said: "The pandemic has exposed the precarious position of many businesses who are in distress because they have little or no working capital and have seen orders cancelled."
Jim Stewart, Chair of Dorset LEP's Board, said his organisation's response to COVID-19 featured additional resources help businesses to cope in the short-term coupled with a focus on longer-term infrastructure and skills investment and a need to create more apprenticeships. He cited several examples of how Dorset LEP was helping to build closer working relationships between education providers and businesses.
These include support for apprenticeships via Weymouth College and Bournemouth & Poole College, and the provision of incubator space for business start-ups at Arts University Bournemouth.
Jim added: "We are redoubling efforts to identify and fix skills gaps, particularly in marketing, tech and analytical job roles, so that companies can be stronger, greener and more adaptable."
Dorset LEP will also be launching a series of webinars and one-to-one business support sessions in partnership with local accountancy firm Smith & Williamson, to assist businesses as they look to trade out of the crisis.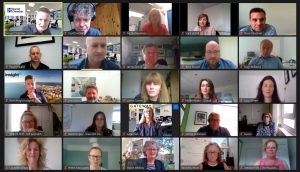 Also at the conference were Matt Prosser, Chief Executive of Dorset Council, and Chris Shephard, Director of Development at BCP Council. Both answered questions on the impact of the virus on green investment and said new ways of working prompted by the crisis could see less congestion and commuting in future.
At the same time, several participants agreed the move to more home working exemplified why 5G infrastructure and a full fibre network needed to be rolled out across Dorset.
Dorset Chamber is providing a range of support for business and is lobbying at a national level during the crisis. This includes the Dorset Gateway, delivered by Dorset Local Enterprise Partnership (LEP) in partnership with Dorset Chamber, which provides free signposting to business advice and support.
Visit www.dorsetchamber.co.uk for more about support available to all businesses in Dorset.