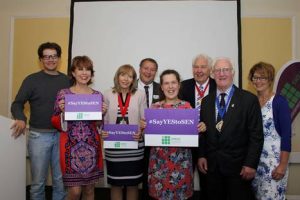 A host of celebrities and 150 local businesses have shown their support of the #sayYEStoSEN campaign launched by South West Regional Assessment Centre (SWRAC) in Dorset.
The campaign aims to source internships and work opportunities for those with Special Educational Needs.
The big names included Fred Dinenage – ITV news presenter, Steve Brown – British Wheelchair Rugby athlete, Lizzie Cundy -TV personality, Andrew Castle – tennis player and TV presenter, Danny Crates – British Paralympic Athlete, Naomi Riches – Paralympic Rowing Champion, all of which have got behind the campaign in the #sayYEStoSEN video.
The #sayYEStoSEN launch event was held in Bournemouth and attracted over 150 local businesses from Dorset and Hampshire and the celebrity speakers included Jules Robertson (from BBC's Holby City) who talked about his personal experience with dealing with Asperger's in the acting world, joined by his mother, the internationally acclaimed and award-winning writer Kathy Lette, and Rosie Jones (comedian on Eight Out Of Ten Cats and Mock the Week) plus a variety of talks from professional speakers from within the local business sector.
"Special educational needs and disabled people can have such strength and resilience," said Steve Brown, who recently appeared on the BBC programme Without limits – Vietnam. "They can bring an amazing energy to a workplace and the skills they have acquired through life makes them quality staff for a business, I was delighted to be asked to be involved with such a great campaign with SWRAC."
Kathy Lette said her son has taught her that there is no such thing as normal and abnormal. "There is just ordinary and extraordinary – and people on the spectrum have a lateral, literal, tangential logic which is truly original and fascinating. My own son is Wikipedia with a pulse. We now know, with diagnostic hindsight, that Mozart, Orwell, Van Gough, Warhol, Steve Jobs and many other brilliant artists and scientists, were on the autistic spectrum. If only employers could learn to think outside the box, then autistic people could give back to society in the most amazing ways."
To find out more, visit: www.supportedinternships.org.uk, for information about how your business can get involved email