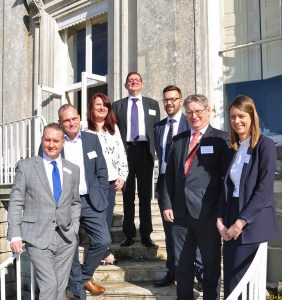 Business leaders debated issues facing firms in Dorset when they attended a Town Chambers' Conference near Dorchester.
Dorset Chamber of Commerce and Industry held the event at Kingston Maurward College with subjects including the Government's industrial strategy and new General Data Protection Regulation (GDPR) rules.
It was the second conference of its kind to unite chambers from across the county following on from a successful inaugural event last September. Special guest Ronan Quigley, who is executive director of the British Chambers of Commerce (BCC), gave an overview of lobbying activity and work at a national level.
"The Chamber movement goes from strength to strength in Dorset and it is important to keep the momentum going," said Ian Girling, chief executive of Dorset Chamber.
"By sharing best practice, giving advice and support, discussing key issues and presenting a united front we can promote the best interests of business, help drive the local economy and fight Dorset's corner at a national level. My thanks to Ronan for an invaluable insight into the BCC's work as well as all of the other speakers and enthusiastic delegates who made the conference such a success."
Other speakers at the event included Dorset Chamber president Paul Tansey, Sarah Eades of event sponsor A-One Insurance Group and Dorset Local Enterprise Partnership programme manager Rob Dunford who gave an overview of the government's industrial strategy.
Martin Hamilton, a strategic director of the Dorset Councils Partnership and Ian Girling led a debate about the key economic issues in the county. There was also a presentation about GDPR and a best practice session.
The Dorset Chamber – Dorset's leading business support organisation – invited all town chambers to the conference, including those who are members of its affiliation programme. As the county's voice of business, it is the only chamber in the county accredited to the British Chambers of Commerce.
The Dorset Chamber has also formed the Dorset Business Alliance with the Federation of Small Businesses (FSB) and the Institute of Directors (IoD) to tackle issues at a strategic level.
Visit www.dorsetchamber.co.uk for more details about joining a chamber of commerce.