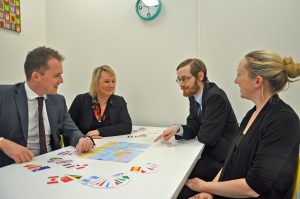 NEW figures show Dorset Chamber of Commerce and Industry helped the county's firms export £163.5m worth of goods in 2016. DCCI's International Trade Department processed some 11,133 transaction documents during the calendar year 2016 for firms selling abroad.
Exports included:
Racing pigeons to UAE
Bath bombs to Ukraine, Mexico and South Africa
Throat lozenges to Azerbaijan
Caravan equipment and spare parts to Egypt
Custom wheelchairs for the Invictus Games in America
The chamber, the county's leading business support organisation, continues to expand its International Trade Department with two new members of staff in 2016. Two more – an administrator and a co-ordinator – are also being recruited.
Chief executive Ian Girling said: "Confidence amongst business in Dorset, including exporters, has rallied. Dorset firms supply an incredible array of products and services both to Europe and the wider world, helping to drive the local and national economy. As well as challenges, there will be exciting new opportunities from Brexit. DCCI will be encouraging and supporting experienced and new exporters to seize this chance to put themselves and the county on the new world map."
The top destination for exports from Dorset in 2016 was Saudi Arabia with 2,082 documents processed; followed by UAE with 1,551; Qatar with 869; Turkey with 762 and Kuwait with 615. In terms of shipment values the highest destination totals were UAE with £38.6m, Turkey with £20.9m, South Korea with £16.4m, Egypt with £11.5m and Saudi Arabia with £8.5m.
Practical support for businesses
Non-EU trade accounts for some 95% of DCCI's International Trade Department work. This is due to the nature of the European customs union which allows goods to move freely across the 28 member states with minimal paperwork.
Rob Booth, head of DCCI's International Trade Department, said any impact of Brexit would depend on how quickly new trade agreements were signed. "Experienced and new exporters are encouraged to get in touch to discuss how we can best help them. We provide a comprehensive range of expert support, training and advice to help businesses navigate the export trade journey in as easily and efficiently a way as possible.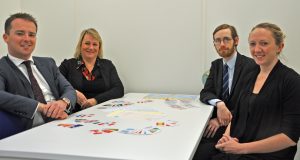 "Our courses help businesses discover the benefits of customs regimes, as well as explaining the requirements for exporting goods beyond the EU and give delegates a thorough understanding of the technical nuances of international trade procedures," he continued, adding that the Chamber's training equips businesses with a highly skilled workforce ready to take on international markets. "Candidates also get the opportunity to obtain a professional qualification."
DCCI's International Trade Department includes documentation assistant Colin Dyke, administrator Amanda Johnson and finance assistant Rebecca Rogers.
DCCI, the voice of business in Dorset, is the only Chamber in the county accredited by the British Chambers. For more detail, contact the International Trade Department on 01202 714800, email or visit www.dcci.co.uk/international-trade-training.