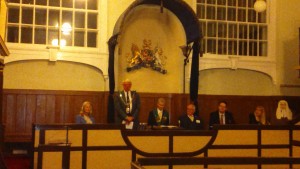 The AGM on 4th November was well attended with 36 members attending plus the Mayor and Mayoress.  The Old Court at Shire Hall provided an atmospheric venue and an enjoyable evening was had by all.  There was a tour of the cells afterwards for those that had pre-booked.
At the AGM, members voted and agreed on a name change from The Dorchester & District Chamber of Commerce, Industry & Tourism to Dorchester & District Chamber for Business. The Executive wanted the name to be more modern and to reflect the aims of the Chamber to promote trade in and around the town for all our commercial, professional and retail members.
The Mission of the Chamber remains the same "To promote, support and influence the interests of our members".
The original Constitution is still subject to revision and any amendments will be put to members in due course.