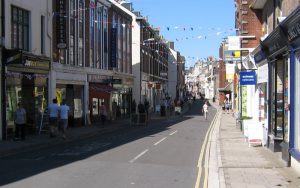 Dorset County Council has issued an update on the roadworks currently taking place in Dorchester.
Construction work at Great Western Cross is set to finish in mid-April. However, there will be a week of night closures to resurface the area before Siemens move in to install the signal cabling.
While on South Street paving work will begin on Tuesday 18 April. This is being paid for by Dorchester Town Council and West Dorset District Council to enhance the shopping area of the town.
Monday 24 April marks the start of 17 weeks of work at South Gate to upgrade the pedestrian crossings and link the signals to help traffic flow through the junction. There will be three-way temporary lights at South Gate for the duration of the work. However, the council have said that the first week of work will be done under night closures.