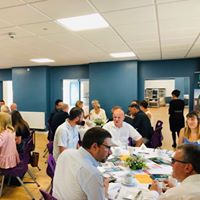 The July Chamber breakfast networking meeting had an educational theme as members met at the newly-opened conference facilities at Thomas Hardye School.
President Steve Farnham highlighted that Dorchester is lucky to have a mix of wonderful educational facilities in the area and the need for greater collaboration between businesses and schools and colleges.
'Many businesses struggle with recruitment yet we have a fertile ground of youngsters on our doorstep,' he said.
A number of people spoke during the meeting from different organisations and schools.
Thomas Hardye head teacher Mike Foley said the school is a multi-academy trust which now includes a teacher school.
'Most teachers working in West Dorset will have trained at Thomas Hardye and all head teachers in Dorset are inducted here,' said Mike Foley.
The new facilities include a conference venue and space to hold weddings and balls.
Edd Moore, teacher and eco-co-ordinator at Damers First School, shared the news that Dorchester has achieved plastic-free status from marine conservation charity Surfers Against Sewage. Chamber member Plastic Free Dorchester has been encouraging businesses to eliminate three items of single-use plastic within their firm and 80 businesses have signed up to the commitment already.
'We are the 67th town in the UK to achieve this status, the third in Dorset and the first to have a campaign lead by children,' said Edd Moore.
In addition Mark Taylor from the Economic Development department at Dorset Council discussed the new Decision Dorset website, designed as a portal for businesses and job seekers to find each other.
A big thanks to this month's sponsor Wessex ECO Energy. Dan Cole talked about its new product Huub, an eco building, built and manufactured in Dorset, suitable for use as a garden office or additional accommodation, which comes complete with solar panels and Tesla battery for energy storage.
Book now for our next meeting
Our next meeting is the August networking breakfast on 13 August at Leweston School, a joint event with Sherborne Chamber of Commerce.
To book visit: https://www.dorchesterchamber.co.uk/events/august-networking-breakfast/