The Executive Committee would like to invite members to attend the Dorchester Chamber for Business Annual AGM on Wednesday, 1st November 2017 from 6:00pm to 7.30pm.
Please support the Chamber and join us in Dorset County Museum, High West Street, Dorchester, Dorset, DT1 1XA for the formal proceedings in the Victorian Gallery.
Get an update on Chamber Events and ensure you are there to cast your vote to elect members of the 2018 Executive Committee.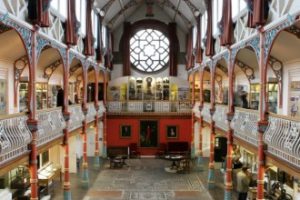 The Victorian Gallery was built in 1883 with arches of fine cast ironwork inspired by the Great Exhibition of 1851 and International Exhibition of 1862, and a beautiful rose window.   The gallery houses an eclectic selection of objects representing the domestic, working and public lives and culture of the people of Dorset.
Members are invited to browse the rich and varied collection of artefacts, paintings and sculpture.   The mosaics inlaid on the floor came from Roman town houses excavated in and around Dorchester – the site of the Roman town of Durnovaria.  The gallery has been described by performers as having the one of the best acoustics in the south of England so a very fitting place for our special annual gathering.
This is a free event for MEMBERS ONLY and refreshments will be available, provided by The Dorset Kitchen, located at Goulds in Dorchester.

With grateful thanks to our sponsor:
Goulds Department Stores & Garden Centre
Bookings
Bookings are closed for this event.