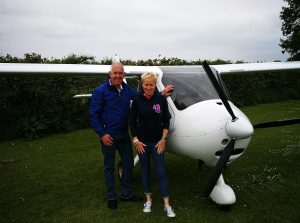 Jack Daniels, Community Highways Officer at Dorset Highways, bought a unique gift when he secured a fabulous one-hour flight over Dorset with BSK Services during a charity auction held by Dorchester Chamber For Business.
The flight, donated by Brian Keene of BSK Services, was one of several prizes donated by Chamber members for a charity fundraiser, which took place during the President's Special Xmas Breakfast last December at Minterne House. The event raised £650, which was later donated to Dorchester Opportunity Group.
Jack, who bought the flight as a Christmas present for Catherine Lindsay, said it was an incredible, fantastic flight. "The weather was perfect, Brian the pilot was just brilliant," said Jack, adding that Catherine said the experience will stay with her for years to come.