Dorchester Chamber for Business is currently offering FREE membership to new members.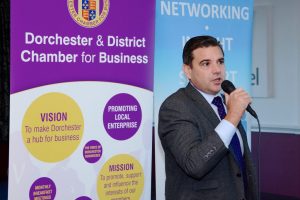 Our popular face-to-face networking events have been put on hold until after the coronavirus crisis and activities are restricted, so we are waiving fees until September.
We are, however, running virtual breakfast events – twice monthly via the Zoom Conferencing Platform – One networking event with attendees given the opportunity to talk about their business and one business event with topical speaker.
This is an ideal opportunity for you to trial membership at no cost to your business. We currently have 200+ members.
Annual membership runs from 1st September to 31st August – Membership is just £50.00 for small businesses* and charities and £125 for large businesses.
*Small businesses: less than 10 employees within the DT postcode and/or within a 20 mile radius of Dorchester … and/or a registered charity
You can join online by clicking here.  Complete the form, which will be sent to me, but no need to complete the payment page.  You will then be sent email confirmation of membership.
*Joining now does not obligate you to renew in September.