APRIL 24th 2015 – Futurum Renewable Energy Systems based on Poundbury announces that it has been awarded the Innasol Certified Partner certification after successfully completing the renewable heating industry's inaugural accreditation scheme by the market leader – the Innasol Customer Excellence Programme.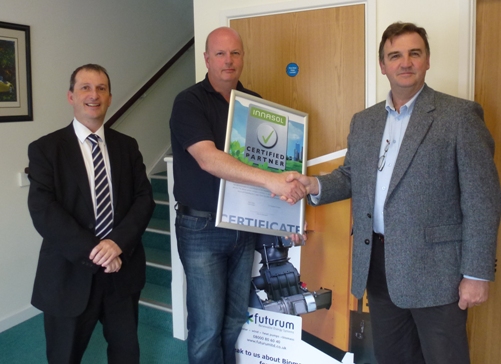 Innasol are the UK's Sole Distributor of high quality ETA Biomass Boilers, made in Austria.
Having now excelled in a number of training workshops, renewable heating expert Futurum has further secured its place as a leader in the renewable heating field, and is eager to save business and home owners money by raising awareness of renewable heating solutions to those consumers who are unaware of it.
To become an Innasol certified partner, prospective or existing partners must achieve high scores in Innasol training courses and demonstrate proficiency in products, installations and all importantly customer service. The various training workshops that they must complete cover subjects including technical sales and product knowledge, renewable heating application and installation and service and maintenance.
Mark Blunden, Sales and Marketing Manager said, "We are proud to be one of the few companies that has successfully completed the renewable heating industry's first accreditation scheme with maximum score in our audit. We continue to bring the very best in biomass and heat pump technologies to new and existing customers, and in doing so saving them up to 45% on energy bills.
"Our certification clearly demonstrates our commitment to deliver consistently high quality installations and customer service. Through our partnership, we also have ongoing
access to the very latest in technical training, meaning that we are amongst the best placed to advise our customers throughout the entire process, from initial conversations and installation, all the way through to service and maintenance."
Silvio Spiess, founder and CEO of Innasol, said, "We are delighted to be working with Futurum as an Innasol Certified Partner. Continued training and development of our partners is vital for the overall growth of the professional renewable heating sector and we are happy to be contributing to this. We look forward to our continued partnership, which helps home and business owners save more of their hard-earned money."
ENDS
Press enquiries to Mark Blunden, Sales and Marketing Manager on 01305-755702