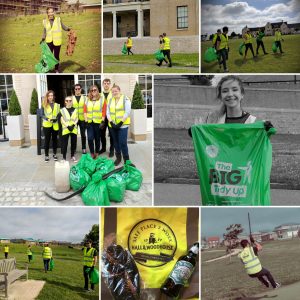 Teams of volunteers from Hall & Woodhouse's managed public houses took a break from serving beer for collecting litter on Saturday (June 10).
Part of a campaign with Keep Britain Tidy, H&W public house teams from across Dorset took part in 'Founder's Sweepers', an annual company event where rubbish is collected to improve the environment for residents and local wildlife, to honour the founders and community values.
Over 50 managed houses took part in the event across the region, including The Duchess of Cornwall in Poundbury. A team of 12 people took on the task of covering as much of the area as possible in and around Poundbury, filling over six bin bags in total.
"It was great to get involved with the community to make a direct improvement to our area," said Matt Hughes, General Manager of The Duchess of Cornwall. "We even managed to remove hub caps and a car bumper."
Anthony Woodhouse, Managing Director of Hall & Woodhouse said: "We are very proud of our teams and the volunteers who have worked hard to clear a huge amount of rubbish. Littering isn't just an eyesore; it can harm wildlife and the environment too.  We want to make a difference to the communities we work in, and this is just one way we can make a positive impact".