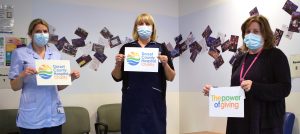 Dorset County Hospital Charity is delighted to be launching their new fundraising campaign today: The Power of Giving.
Dorset County Hospital Charity raises funds to help enhance patient care and staff welfare at Dorset County Hospital. The Power of Giving fundraising campaign will support specialist care areas across Dorset County Hospital; as well as the hospital's Greatest Need and Staff Welfare funds. Care areas such as Cancer care, Intensive care, Renal care, the Elderly, Children and Diabetes. By supporting the Power of Giving campaign you can make a positive difference for patients and staff – helping to provide the very best medical equipment, facilities and care for patients across the hospital.
Simon Pearson, Head of Charity at Dorset County Hospital said:
"Through the power of giving you can make a real difference to Dorset County Hospital and its dedicated NHS staff, helping to make patient care even better. By donating to the care area of your choice; supporting staff welfare; or giving to our Greatest Need fund, providing support wherever the need is greatest, your support will benefit our patients, their families and our staff at Dorset County Hospital."
Dorset County Hospital is dedicated to providing outstanding care for patients. During this unprecedented time DCH Charity continues to work to support the hospital as it delivers vital care under challenging circumstances. Now, more than ever, your support is needed.
DCH Charity's new website: www.dchcharity.org.uk has full information about the Power of Giving campaign which reflects the extraordinary care provided by Dorset County Hospital's NHS staff.
Be part of the Power of Giving today by supporting Dorset County Hospital.  Visit www.dchcharity.org.uk to make a donation, fundraise and find out more about how you can help.