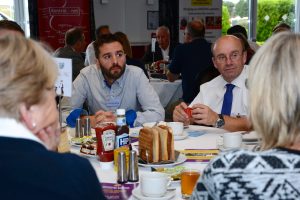 Thank you to all chamber members – near and far – who attended our Meet the Neighbours October breakfast organised by Dorchester Chamber for Business in collaboration with Yeovil and Sherborne Chambers.
The event was hosted by the George Albert Hotel, near Evershot and attracted nearly a 100 members from all three chambers – raising £200 for Dorset & Somerset Air Ambulance. Members enjoyed a fantastic breakfast with the opportunity to widen their network and meet members from our neighbouring Chambers.
Don't miss our slideshow of the event below. All photographs were taken by our official photographer, Siân Court of https://www.dorchesterchamber.co.uk/business-directory/1967/skc-photography/SKC Photography. To obtain copies please contact Siân direct.
Up and coming events
October Learning Lunch – Health & Wellbeing in the Workplace at Borough Gardens House in Dorchester on 26th October (12:30-2pm). For more details and to book visit https://www.dorchesterchamber.co.uk/events/october-learning-lunch-health-wellbeing-in-the-workplace/
The AGM on Wednesday 1st November 6-7.30pm at the Dorset County Museum in High West Street when the Chamber will be electing new Executive Committee members. Completed nomination forms can be emailed to or posted to The Secretary, Dorchester Chamber for Business, PO Box 7388, Dorchester, Dorset DT1 9FJ.  Forms need to be completed and received by Wednesday, 18th October 2017.
November's Business Breakfast on Tuesday 14th November at The Wessex Royale Hotel, sponsored by E3 Consulting. Our guest speakers will be Reuben Beachamp, Employer Adviser with the Department for Work & Pensions, Dorset, Wiltshire, Hampshire & Isle of Wight District and James Pidgeon, the Area Business Development Manager. For more details and booking visit: https://www.dorchesterchamber.co.uk/events/november-business-breakfast/
President's Breakfast – our annual festive celebration will be held on 12th December (7:45-9:30am) at Athelhampton House.  There will be Yuletide mummers with a short performance from the New Hardy Players and carols sung acapella by Local Vocals Dorset Community Choir.  There will also be a Raffle, with prizes donated by members.  Tickets will be £1 each – £5 a strip – so don't forget to bring some cash.  *All profits will go to local charities. To book your tickets visit: https://www.dorchesterchamber.co.uk/events/presidents-breakfast-xmas-2017/