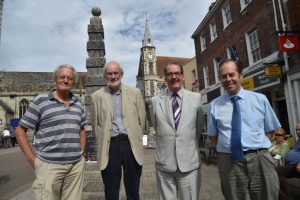 Members of the Dorchester Civic Society will launch The Derek Beauchamp Design Award 2017 on Saturday 13th May with a stand on South Street. The new award will recognise building or projects in Dorchester for their high standard of design.
Society members want members of the public to nominate recent buildings or projects within the county town which deserve recognition for their high standard of design.
This is a new initiative and, in the first instance, the society anticipates making a single award to stimulate interest in the quality of Dorchester's built and natural environment by recognising recent schemes that enhance the area. In addition, the society hopes to be able to offer commendations to acknowledge other schemes of merit that deserve recognition.
Initially, the award scheme will cover projects completed between 1st January 2012 and 30th June 2017.
Peter Mann, chairman of the Dorchester Civic Society, said: "We would really like to hear from anyone who lives, works or shops in Dorchester, either to tell us about good developments or to have a say about proposed developments under the Local Plan."
Anyone can nominate a building or project they believe is of such a high standard of design as to merit recognition. Nominations from members of the public are encouraged as well as from the scheme promoters, project designers and other professionals. Eligible projects include:
New buildings – large or small, public or private
Conversions and re-builds
Conservation of buildings
Shop fronts
Tree planting schemes, landscaping etc
Artistic treatment of neglected sites
Send your nomination

All nominations should be sent to The Derek Beauchamp Design Award, Dorchester Civic Society, 46 Somerleigh Road, Dorchester DT1 1TJ or via email:  by 30th June.
The nominations must include the name and contact details of the nominee, the address of the building or project, a summary description of the work done and, ideally, before and after photographs especially in the case of restoration and improvement schemes.