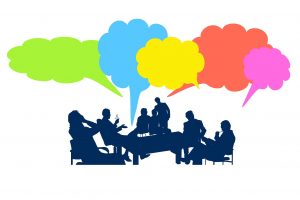 Recently we asked you for your views on the Chamber – what we were doing well and how membership might serve you better.
Responses were fantastic – with more than half our members sharing their views.
So firstly, a big 'thank you' to all of you who completed our survey. We are delighted with the number of positive comments received and that our members feel their membership is productive and worthwhile. Your views will ensure that the Chamber continues to evolve and serve its members well.
During the next couple of months, our Executive Committee will be processing the data fully with in-depth discussions taking place. Following this, we will then update members of any changes to be implemented as a result of your suggestions and feedback.
Following my outline of results at the Chamber May Breakfast, below is a more detailed summary.
Summary of results
Questions were developed around five key areas: membership, events, training, social media and communication. Therefore, results have been broken down into these areas and are outlined below.
*Please note that respondents were able to give more than one answer to questions – hence not all percentages equal 100%.
Membership:
More than half our members rated their membership as

5-star

while 39% gave us

4 stars

88%

joined the Chamber for networking purposes, while

54%

wanted to be more involved in the local community
The most beneficial aspects cited were creating new business leads

63%

, providing local information and updates on local issues

54%

, while

25%

said our events had been "enjoyable and productive".
Events
87%

of members said breakfast was their preferred event,

30%

said evenings were best and

29%

cited lunch as being the most convenient time.
Training
More than

40%

said that learning lunches on training, successful marketing techniques, professional networking tools (LinkedIn), social media, leadership/management techniques and business growth strategies would be the most useful.
Communications
78%

of our members use twitter and Facebook,

58%

have a LinkedIn profile, but only

3%

use Google Plus and Instagram

93%

prefer to receive Chamber news via email, while

17%

say they would like a monthly newsletter, while

11%

cite social media as the best channel. Surprising only

8%

say they prefer using our website.
What could we do better

Comments included some fantastic feedback with many commending the Chamber on our organisation and well-attended events. There were also some good suggestions and these will be discussed by the Executive Committee in the forthcoming management meetings.
Below are a selection of respondents' comments:
Shout more about or success
More consultation with local authority and government organisations
It would be helpful to have guest lists emailed the day before
Is it possible that the Chamber arrange with the venue the audio/visual requirements and details provided to ensure compatibility? Location plans of the event or links to the website with details/car park details provided to attendees would also be useful.
More variety with regards to events and times, lunches would be better for me as a working parent
More learning events
Encourage more business women to attend
Use the Chamber's influence to lobby local councils, on their decisions.
More cooperation with BID in local events
Engage with other local chambers more regularly
I sometimes feel that as the meeting are large with many people attending that I feel daunted by this. As a result, I find it hard to engage with those people who benefit me best. I am not a new member but found it difficult to attend towards the end of last year so an out of the loop somewhat. Maybe a New Members' get-together would be a good idea so we have fewer people to engage with and I would then feel more comfortable with the bigger meetings.