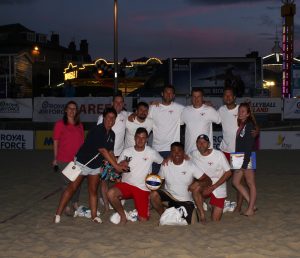 Battens Solicitors is challenging up to 32 local businesses to a fun-filled carnival themed volleyball tournament on Weymouth Beach this summer.
The annual event – run by Battens Solicitors to raise money for local causes – raised £1,000 for the Kingfisher Children's Ward at Dorset County Hospital last year. In celebration of the tournament's tenth anniversary, Battens is giving it a carnival theme, inviting local businesses to take part, dress up and nominate a local charity they wish to benefit from funds raised.
"We wanted to mark the tenth anniversary of the tournament by doing it a little differently this year which is why we're inviting teams to nominate their own special charities," explained Charlotte Appleby, from the Residential Property Team and one of the organisers of the event at Battens Solicitors.
"If you're looking for a team-building, networking event that is brilliant fun and raises money for a charity that's close to your hearts, then join us for our Charity Beach Volleyball Tournament."
The tournament will take place on Thursday 27th July ahead of the weekend's Beach Volleyball Classic, run by Weymouth Volleyball Club. Team entries cost £85. Deadline for entries is Monday July 10th.
To register your team, visit www.battens.co.uk/volleyball2017 and fill out the form or call Sophie Knapman on 01935 846255.