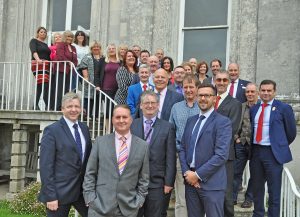 Dorset Chamber of Commerce and Industry (DCCI) staged the event at Kingston Maurward College as bonds continue to grow between the business groups.
DCCI, the voice of business in Dorset, welcomed speakers from the county's Local Enterprise Partnership (LEP) and the Dorset Councils Partnership (DCP) at the conference.
"It was an incredibly worthwhile event which showed the strength of the chamber movement and business across the whole of Dorset," said DCCI chief executive Ian Girling.
"We had some positive discussions, shared information and explored ways we could continue to work together for the benefit of the local economy and the community. As chambers, we are stronger together, and working more closely in this way gives us a more influential voice locally, regionally and nationally."
Chambers at the conference included Bournemouth, Bridport, Broadstone, Dorchester, Ferndown, Lyme Regis, Poole, Swanage, Verwood and Weymouth and Portland.
DCP chief executive Matt Prosser and strategic director Martin Hamilton outlined challenges and plans for the local economy, while LEP interim director Rob Dunford set out the organisation's achievements and set out strategies for driving further investment in Dorset.
Other speakers included Donna Wilson from sponsors A-One Insurance Group, which includes PJ Aiken, and DCCI president Vincent Boni, who emphasised the "vitally important" role of chambers in pulling together the business community, giving them coherence and scale. "Without chambers," said Mr Boni, "there is no voice for the business community and it was great to see the support for all business networks at the conference."
DCCI, which is Dorset's leading business support organisation, invited all county chambers to the conference, including those who are members of its affiliation programme. It is the only chamber in the county accredited to the British Chambers of Commerce, which offers DCCI and local chambers influence in the corridors of power at Westminster.
DCCI has also formed the Dorset Business Alliance with the Federation of Small Businesses (FSB) and the Institute of Directors (IoD) to tackle issues at a strategic level.
Visit www.dcci.co.uk for more about joining a chamber of commerce.