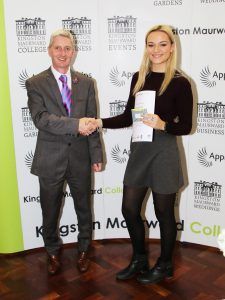 The Kingston Maurward Apprenticeship celebrated their students' success with a prize giving ceremony for their Apprenticeship Awards. The event, which took place in the newly refurbished conference room at the college, was hosted by John Firth, Cross College Lead Apprenticeships.
As part the initiative, 20 awards were given out including the Advanced Business Administration Apprenticeship sponsored by the Dorchester Chamber for Business, won by Emma Boyall.
Emma Boyall, who works for Clarkes Windows received her certificate and prize from DCFB's President, Steve Bulley (pictured). Speaking after the awards Steve congratulated Emma and said that he was delighted to meet the next generation of potential business leaders in the community.
"It's a privilege to support the Kingston Mauward Apprentice awards again this year. We are focusing on the next generation of future business leaders as part of our Retain campaign and Emma is a worthy winner."
In a change to the established format, the Kingston Maurward College Stonier Trophy for the Apprentice of the Year was awarded to two apprentices, Aidan Canning from Boveridge Farm and Sam Lee who works for Chamber members, Blueberry Wealth.