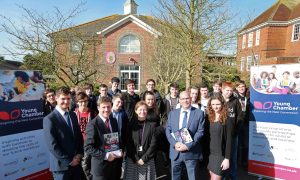 A trailblazing Dorchester school has become the first in west Dorset to join the new Young Chamber Programme bridging the gap between business and education.
The Thomas Hardye School in Queens Avenue has signed up to the pioneering initiative being led by Dorset Chamber of Commerce and Industry (DCCI). Winfrith-based Atlas Elektronik UK (AEUK) has sponsored the school's membership to put it on the map along with 12 schools and colleges county-wide.
Apprentices Ben Lawrence and Charlotte Cox, who started at AEUK six months ago, gave a talk to sixth formers at the launch of the programme at the Thomas Hardye School.
Hardye's headteacher, Mike Foley, said: "Atlas Elektronik UK's approach to apprenticeships is exemplary. It is important that students really do consider all of their choices and it is great to have two shining examples of Atlas Elektronik UK's apprenticeship scheme at our launch event.
"We are very grateful to Atlas Elektronik UK for sponsoring our membership of the programme and look forward to developing a close relationship with them."
The school has signed up to the Young Chamber Programme as part of its ongoing work to forge closer ties with business and inform students of their career options.
Head Mr Foley, along with head of Year 13 Katie Taylor and careers co-ordinator Catriona Brady welcomed DCCI Young Chamber Programme co-ordinator Will Montgomery and the AEUK delegation to the school.
As well as Ben and Charlotte, the delegation included head of HR Russell Warren and learning and development officer Emily Gollop. During the launch, Ben, 20, and Charlotte, 19 – both taking NVQs at level 3 and HNCs at level 4 – outlined their career paths at Atlas Elektronik UK and told sixth formers about the benefits of apprenticeships.
AEUK, which employs more than 300 people at Dorset Green Technology Park, has stepped up its apprenticeship programme and will have 21 following its next intake in September. The company has a world leading engineering and scientific capability that supplies innovative maritime systems for such customers as the Ministry of Defence and the Royal Navy.
Russell Warren, head of HR at AEUK said it was a pleasure to be involved. "Schemes such as Young Chamber help bridge the gap between education and the workplace. They can support the development of employees of the future with benefits for companies and the community."
DCCI, which is Dorset's leading business support organisation, launched the Young Chamber Programme last September.
Thomas Hardye has more than 2,000 students aged 13 to 18, including 700 in its Sixth form.
Any schools interested in joining the Young Chamber should contact Will Montgomery on 01202 714817 or via email: