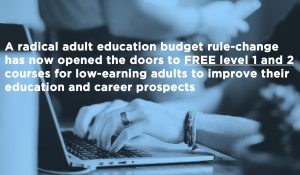 As a result of a radical adult education budget rule-change, Weymouth College is now offering free level 1 and 2 courses for low-earners to improve their education and career prospects.
From Wednesday 1 August 2018, adult learners who are employed and earning less than £15,736.50 (full or part-time} will be fully funded for Level 1 and Level 2 courses, thanks to the AEB (Adult Education Budget} policy trial for 2018-19.
Although this funding change is only being offered as a trial for the 2018/19 academic year at present, it opens up the Weymouth College range of Level 1 and Level 2 course to those employed adult learners who meet the maximum earning criteria.
Previously full funding was only available to eligible unemployed people, young people aged 19 to 23 with skills below Level 2 and adults aged 19 and above who do not have English and maths up to Level 2. A 50% contribution towards fees was expected from those who did not fall into these categories.
The Department for Education has said: "This will help to increase AEB participation and lift social mobility barriers to learning for those who would not otherwise engage due to course fees being unaffordable. It will also support those that are in low paid employment and are wanting to further progress in work and in their chosen career."
For more details visit www.weymouth.ac.uk/subjects/part-time-courses