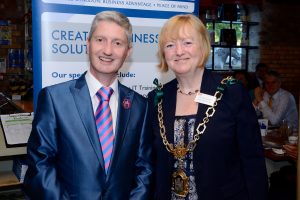 Many thanks to all our members who attended the September Breakfast hosted by Carluccios in Brewery Square last week.
Our guest of honour, Mayor, Cllr Susie Hosford, pictured with DCFB President, Steve Bulley, gave a fantastic talk on her historic post, revealing what happens behind the scenes at the Mayor Making ceremony and explained how the current role is just as important since its inception back in the 17th Century. The Mayor also revealed plans for Dorchester for the coming year.
Below is a fantastic selection of photos from the breakfast captured by the Chamber's official photographer and member, Siân Court of SKC Photography. To purchase a picture please contact Siân direct.
Forthcoming events
Don't miss our next breakfast event Meet the Neighbours on 10th October (7.30-9.30am) at the George Albert Hotel. The next Learning Lunch on Health & Wellbeing in the Workplace is 26th October at Borough Gardens House in Dorchester.
To book your place and get details of our other forthcoming events visit Dorchester Chamber's events.