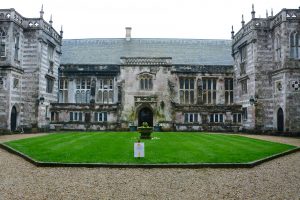 The collaborative networking breakfast held by Dorchester Chamber For Business and Blandford Business Club was a great success with more than 83 members attended the event at the historic and picturesque Milton Abbey School.
With the aim to further promote trade and enterprise among Dorset's the business community. Those who attended were able to display marketing material and network with the wider business community in North Dorset and the surrounding area.
As part of a new Chamber initiative, the breakfast was also extended to facilitate one-to-one meetings to enable businesses to get to know each other and promote trade across the county. There were 45 such meetings, all held in the school's historic library.
"We were delighted to meet new friends and contacts from North Dorset at Milton Abbey School – a stunning location for an event," said Steve Farnham, President of Dorchester Chamber for Business. "Many 45 one-to-one meetings – part of our new initiative – are likely to generate new business or leads for our members and those from the Blandford Business Club. We aim to allow our member the opportunity to network with like-minded businesses in a friendly and relaxed atmosphere.

"As well as our ever popular Dorchester based breakfasts we look to offer the opportunity for networking further afield and have events arranged aimed at meeting contacts from Weymouth, Bridport, Sherborne and Yeovil later in the year."
Many thanks to Battens Solicitors for sponsoring this fantastic networking event. Don't miss our next breakfast at Carluccioson Tuesday 8th May (7.45am-9am) when Anna Bright, Director of the brand new Shire Hall Historic Courthouse Museum will speak about the redevelopment of Shire Hall, due to open in April as an exciting new museum in Dorchester.  For more details of this and other forthcoming events visit Dorchester Chamber for Business.
Are you in our picture gallery?
Below are some fanastic shots of the event captured by the Chamber's official photographer, Siân Court of SKC Photography.