Dorchester Chamber has joined forces with Dorchester BID and developed a notice to show your customers that you are all taking the necessary measures to limit the risk of spreading the virus to give them the confidence to continue using our businesses – as well as reminding them to take the same measures.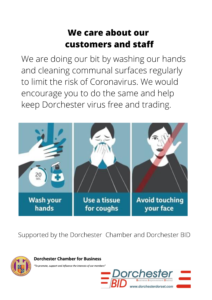 The aim is for member to do their bit to help maintain the confidence of customers and visitors to Dorchester during the current virus outbreak. As yet the town has not had a case and we would like to keep it that way for as long as possible.
Please feel free to display the poster in show windows.
Dorset Chamber has produced
guidance
but the important message to staff and customers is to wash hands, wash hands, wash hands.