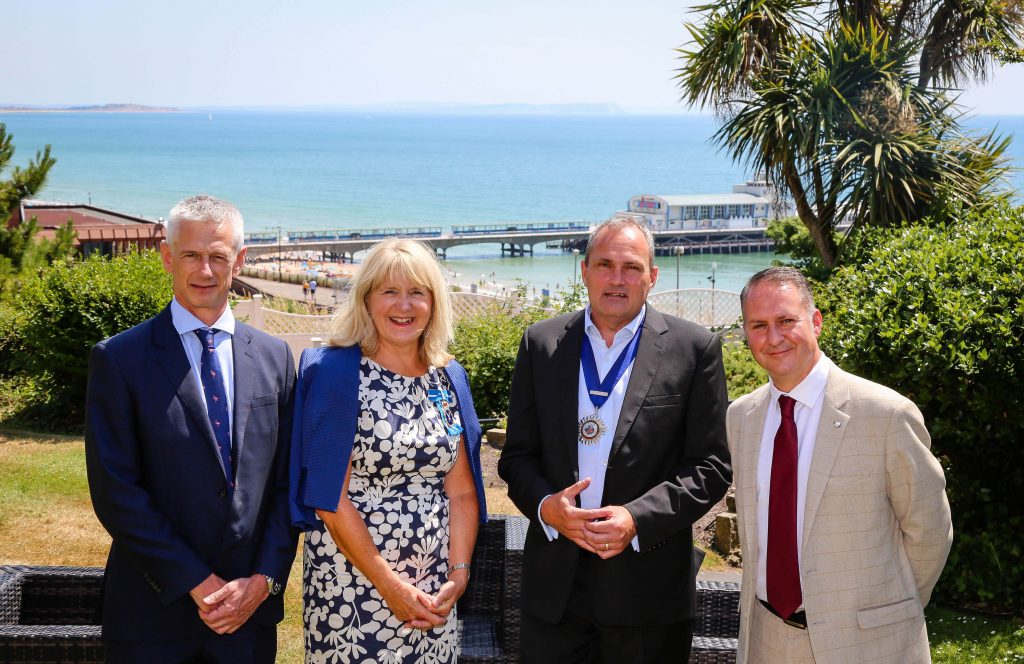 Firms across Dorset will be able to tap into vital business support following a high-profile contract win by DCCI, Dorset Chamber of Commerce & Industry. With 700-plus members across urban and rural areas, DCCI has been awarded the contract for the Dorset Gateway business support brokerage service by Dorset Local Enterprise Partnership in a competitive tender.
News of the contract was given to 120 attendees at the DCCI's Annual President's Lunch at the Bournemouth Highcliff Marriott Hotel. In his opening address, DCCI chief executive Ian Girling said the Dorset Gateway one-stop shop, providing a single point of contact for business support, will be open to non-members as well as members.
"The Chamber is well placed to deliver vital business support to firms which would benefit from a range of services to help them expand and generate jobs and inward investment," said Ian, adding "this is very much a gateway to growth".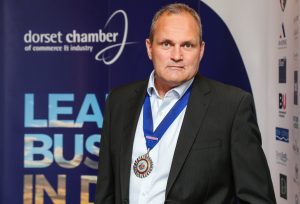 In his presidential address, Paul Tansey (left), who leads Poole-based business-to-business marketing agency Intergage, paid tribute to the DCCI's tangible energy. "Almost every Chamber event is sold out and members say they love being part of this community. The Chamber is buzzing and it feels like it's in a great place."
Paul urged members to enter the 13 categories available in the Dorset Business Awards, regarded as the largest business event of its kind in the county, stating: "It's amazing how just entering the team for an award spreads excitement and pride – it galvanizes and motivates everybody."
Entries close on Friday, 3rd August. In keeping with the awards theme, the DCCI itself is entering the British Chambers of Commerce Awards, which recognise excellence in member services, engagement and operations. "I'm sure you'd like to join me in wishing Ian and the team every success in that because, you know what, they could win," said Paul, who also warned that Dorset's "young people are struggling to understand the employment opportunities open to them here".
He urged educators, the young and local businesses to get together as stakeholders in the same economic future. To help make that a reality, DCCI is working in partnership with the Careers & Enterprise Company.
On September 26th, at Bournemouth's BIC, 100 employers will be promoting career opportunities – between 2,000 to 3,000 youngsters will be bussed in from around Dorset. Called The Careers and Apprenticeship Show, it will be the single largest employment event of its type ever held in Dorset, with colleges and universities taking part too.
Collaborators for the show include SUN (NCOP), the Careers and Enterprise Company, Dorset Local Enterprise Partnership, Dorset Chamber of Commerce and Industry, DCCI Young Chamber, Bournemouth Borough Council, Borough of Poole, Christchurch Borough Council, East Dorset District Council and Dorset County Council.
The President's Lunch, sponsored by regional law firm Trethowans LLP, also heard Paul speak of the fourth industrial revolution – and the opportunities and challenges this poses.
"This is an era where sensory and aware objects and machines can listen and speak and connect to a super intelligence in the cloud – and automate away work we do. Our Chamber is a warm and supportive community for the business leaders of Dorset and we stand for business excellence, business growth and promoting business and its agenda to the wider community.

"For me our county is the ultimate place for hard-working people and their families to thrive. A place where business opportunity meets an exceptional quality of life. There is nowhere like it."
Picking up on the technology theme were guest speakers Peter Truckel and Ian Jones from Bournemouth University. Using video and slides, they showed how virtual, augmented and mixed reality, with deep learning, machine learning and artificial intelligence, is very much here and now. For example, one local billboard is now interactive – you can slice a loaf of bread with your hand.
A next-generation 5G network is also being test-bedded at Lansdowne, Bournemouth, paving the way for smarter communications. Significantly for businesses, digital natives coming into the workplace understand this connectivity – and real-world applications – in a way that older generations may not. Avatars and holograms will serve as educators and customer service as everyday realities.
DCCI Senior Vice-President Liz Willingham, who runs Liz Lean PR in Poole and takes over from Paul next year, which will be the DCCI's 70th anniversary, wrapped up the event with thank-yous.
A silent auction at the event raised £1,160 for The Fletcher Foundation, a charity which supports the breast and prostate cancer units at Poole Hospital. The charity is designed to help aid early diagnosis of these two types of cancer, helping people in Dorset win the fight against the diseases by providing and maintaining diagnostic equipment.
Prize sponsors were Summer Lodge country house hotel, Sand Polo Events, NEO bar, The Hermitage hotel, Echo-U customer contact centre, AFC Bournemouth, Westover Group, Hallmark Hotels, Swanage Railway and BTW Physio.