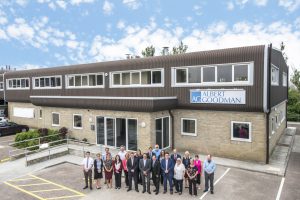 Chamber Members and professionals are invited to a special opening welcome party on Friday, 20th July at Leanne House, 6 Avon Close, Granby Trading Estate, Weymouth, Dorset DT4 0UX.  We hope you can join us!
To book – please email so that we may add your name to the list of attendees.
Leading South West accountancy firm Albert Goodman has announced the relocation of 29 staff from its previous seafront location to a brand new facility at Leanne House, situated on the Granby Industrial Estate on the outskirts of town.
This latest move is part of the company's ongoing commitment to the town, staff and expanding client base across Dorset. Leanne House delivers larger and more 21st Century looking premises with excellent transport links and parking from its business park location.
An open plan style of working is expected to encourage collaborative working in order to deliver a better client service as well as affording a more modern and comfortable environment for its staff. The Granby Industrial estate is by far the largest employment site in South Dorset and home to Weymouth's leading businesses.
Commenting on the relocation, Mark Wallis, Director and Head of the Albert Goodman Weymouth office, said: "We are absolutely thrilled we found the right premises that ticks all the boxes in terms of location, additional space and facilities. Not only does it give us more scope for future job creation, but it allows us to operate from professional premises that accurately reflect our reputation as a leading Weymouth accountancy firm.

"We are looking forward to showcasing Leanne House at an official welcoming party on Friday 20th July (5pm-7.30pm) and we're confident we will receive the full support and approval from our clients and the local business and professional community."
Richard Bugler, Managing Partner at Albert Goodman, added: "We've built a tremendous reputation in Weymouth over the last eight years and this latest investment reaffirms our continued commitment in the town. I wish Mark and the Weymouth team all the very best as they enjoy their new surroundings and focus on providing the very best levels of client service."
Leanne House is owned by DJ Property, South Dorset's leading provider of commercial property.  Mildren Construction was awarded the contract to completely refurbish the offices to the very high level required by Albert Goodman.  Mickey Jones of DJ Property said his firm was delighted to be able to provide such high-quality office space to Albert Goodman and welcome them as a customer.  "I wish the team many successful years of trading from Leanne House, which is located on Weymouth's cycle path network, making green travel a real option."
For more details visit www.albertgoodman.co.uk