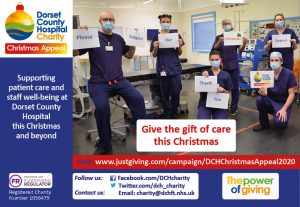 As DCH prepares for winter, Dorset County Hospital Charity has launched its Christmas Appeal, the first special appeal as part of the Charity's new 'Power of Giving' fundraising campaign, to raise vital funds to support patient care and staff wellbeing.
Earlier this year the local community generously supported the DCH COVID-19 Appeal which helped the hospital respond to the pandemic. The appeal funded a range of short-term initiatives to support staff working under very difficult circumstances and will continue to fund longer-term projects for the benefit of staff at DCH.
The Charity is encouraging the community to support the Christmas Appeal through donations or virtual fundraising activities.
Simon Pearson, Head of DCH Charity, said: "Christmas is a time for caring and giving. DCH Charity's Christmas Appeal will ensure the hospital charity can provide valuable funding to enhance patient care across the hospital's specialist areas such as Cancer Care, Elderly Care, Stroke, Maternity and Critical Care, whilst our hard-working NHS staff also care for Covid patients. We will also fund further initiatives to support the well-being and resilience of DCH staff."
Visit www.justgiving.com/campaign/DCHChristmasAppeal2020 to find out more about the DCH Christmas Appeal or to donate.