Dorchester Town Council and Dorchester Choral Society are working together to bring the magic of Christmas to the town's residents in a year where we all know that Christmas may just not be the same.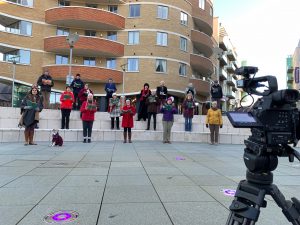 Many events familiar to Dorchester residents won't be taking place: there will be no Christmas Cracker event, no ice rink in Brewery Square and no large scale carol services or carol singing.  So the team are putting together a professionally produced film Dorchester at Christmas 2020 to conjure up the spirit of Christmas for us. Through a combination of traditional carols, music, readings and images from the town and surrounds the film brings the community together to celebrate Christmas in a different way.
The project has been backed by some big names who have freely contributed their talents: Kate Adie, Martin Clunes, Julian Fellowes, Tim Laycock and Harriet Walter.  All the Dorchester schools have been invited to take part.  The Dorchester Choral Society is providing some well known carols as well as other seasonal music, whilst Tatterdemalion will take us back to an earlier age.  Other contributions are still in the planning stage but we know that our Town Crier will introduce the film and the Mayor will provide an epilogue. The Town Council, Dorchester Choral Society and local businesses have supported the project in cash and in kind. This is truly a community enterprise!
The film will be given for free to those that need it most: the hospital, hospice, care homes and to others who may be isolated.  But the film will also be sold from mid-December to raise money for the Mayor's chosen local charities and for school PTAs.
The film will be distributed online but also as a DVD with a launch date of the second week of December.  More details of the launch will be released nearer the time.
Jane Howard of the project committee says, "This is an incredibly exciting project that has clearly captured the imagination of large numbers of local contributors.  We are extremely grateful for all the support we have had already and we are confident that many residents will want to have the film to watch over the Christmas period.  It is good to be celebrating what we can do together in this most difficult of years."
For more information contact:
Jane Howard
Chair, Dorchester Choral Society
01305 261410