One of the UK's top business leaders has praised Dorset Chamber members for helping to directly influence Government coronavirus policy.
Dr Adam Marshall, director general of the British Chambers of Commerce (BCC), said concerns raised by Dorset firms had helped the organisation lobby successfully in the corridors of power. He told how the BCC had cited issues in weekly discussions with Business Secretary Alok Sharma and in conversations with other senior ministers.
Dorset Chamber welcomed Dr Marshall for its inaugural online Business Leaders event. He told nearly 50 business owners, directors and senior managers over Zoom how well Dorset was regarded at a national level as a 'modern, forward-looking and optimistic' chamber.
Dr Marshall also urged businesses to keep raising concerns so it could continue to influence and change government policy at an early stage.
"Tell us what the issues are, what the trends are and where the difficulties are. Tell us what is going on in your business so we can tell government. Every piece of information is really important," said Dr Adam Marshall.
Subjects during the discussion included the economic outlook, business support, the value and role of chambers during the pandemic, retail and town centres, banks, international trade and new working patterns.
Dorset Chamber chief executive Ian Girling said: "Adam Marshall has been doing a fantastic job, leading the British Chambers of Commerce and helping inform Government at the highest levels. As a member of the British Chambers, this has enabled us to effectively lobby at the highest level which has seen some direct changes to policy and help for businesses that have been falling through the gaps.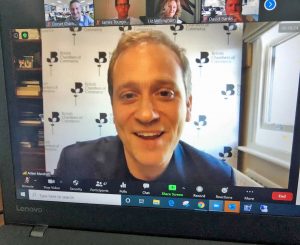 "We discussed some of the key issues facing Dorset businesses and it was great to hear feedback from Dr Marshall on how well Dorset Chamber is regarded at a national level."