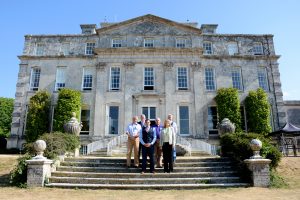 More than 60 members attended our July breakfast hosted by Kingston Maurward, which featured an educational theme, focussing on the Chamber's Retain & Retrain campaign.
During his speech to members, Steve Farnham, President of Dorchester Chamber for Business, reinforced how important education and the young workforce are to the future of Dorchester Chamber and Dorchester generally.
"It was great to hear that Kingston Maurwood and the Dorset Studio School are leading initiatives to train the young who are looking for an alternative learning path with more focus on practical and land-based skills. We are also proud that one of our members can boast a National Apprenticeship Award winner and are delighted to congratulate Benji Reid on achieving that accolade.  

"We need to encourage young people demonstrating that they can achieve the best skills, qualifications, and training right here in Dorchester and that businesses in the town can fulfill their career aspirations," said Steve. "It is not only the young that need training – with the ever-changing climate we are keen to help Dorchester Chamber members receive the training they need to stay afresh and ahead of the game."
Sponsored by Kingston Maurward and Keep 106, the event also provided an opportunity for a wider community to find out more about local initiatives underway to support young people. Key speakers included Luke Rake, Principal, Kingston Maurward, Steve Bulley, Dorchester Chamber who reinforced the importance of the Chamber's Retain and Retrain campaign.  Other speakers were DCCI's Young Chamber, Annetta Minard, Headteacher of Dorset Studio School and Christopher Moyse, Blueberry Wealth.
Christopher spoke about having apprentices through Kingston Maurward that have won national awards four years running.  Their current apprentice, Benjamin Reid, who was present at the breakfast, recently won the national apprentice award for Advanced Business Administration.
Exec Member Steve Bulley, who is also Head of Business Engagement at Dorset Chamber said: "Dorchester Chamber for Business is keen to provide appropriate and relevant training for members and their staff as we all have the ability to grow our knowledge base."
He added that as part of the affiliation with Dorset Chamber and on the theme of education there will be a major Careers Fair this September at the BIC in Bournemouth with over 4,000 students attending.
After the speeches and a sumptuous breakfast, there was an extended period of networking. In addition, both members and non-members had the opportunity to meet with Dorchester Chamber Executive members on a one-to-one basis to discuss requirements regarding training and any support they would like the Chamber to provide.
Below is a fantastic selection of photos from the breakfast captured by the Chamber's official photographer and member, Siân Court of SKC Photography. To purchase a picture please contact Siân direct.