Round off the year with our Annual President's Breakfast on Tuesday 12 December 2023 at 7.45am – 9.30am at Athelhampton House, Nr Dorchester. Supported by Minuteman Press Dorchester.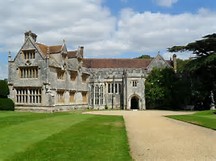 Any booking not cancelled by 12pm on Wednesday, 6 December 2023 will still need to be paid.
Non-members can attend 1 event to trial before committing to join.
Please ensure names of all attendees are included on your order form along with any special dietary requirements in the notes field – Thankyou!
The Christmas Breakfast is supported by Minuteman Press Dorchester, who are the local printing and copying centre based ion Poundbury. Minuteman Press is owned and operated by David Prince

and was previously Sprint Signs (Dorchester).
They specialise in full colour printing and copying services as well as graphic design and finishing services.  Also producing high quality colour copies and digital prints. Some of the more popular printed products include: brochures, business cards, envelopes, flyers, invitations, labels, letterheads, newsletters, postcards, and presentation folders.
For more information see: https://minuteman.com/uk/locations/england/poundbury-dorchester/
Bookings