Lorrie Truelove, owner and Registered Manager of Everycare Wessex in Dorchester, received an invitation to attend a reception at 10 Downing Street to recognise the adult social care workforce.
Lorrie had been nominated by Skills for Care as they are familiar with her involvement in the national Registered Managers' Reference Group.
On Wednesday 16 August, Lorrie travelled to London to attend the event which was hosted by the Minister for Care, Helen Whately MP, and the Chief Nurse for Adult Social Care, Deborah Sturdy. At the event the guests were celebrated, and thanks were given to the huge number of people who make up the social care workforce and the difference that they make every day.
The Minister's speech was dedicated to all staff and volunteers who said, "They are the backbone of social care provision".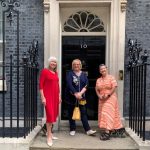 Lorrie Truelove of Everycare said "The sense of history on entering the famous black door at No. 10 Downing Street and walking down the staircase, touching the very same bannister as various leaders of this country and overseas from the past and present was really quite overwhelming. The weather was amazing, so we were able to appreciate the beautiful garden of No.10 which was a little oasis right in the heart of London. We enjoyed canapes and drinks on the lawn whilst having the opportunity to mingle and network. It was a privilege to be amongst people from a variety of backgrounds and roles with the common purpose of providing excellent care".
Everycare recently celebrated their 25th anniversary and the company continues to go from strength to strength providing Homecare and Nursing services throughout Dorset.
Lorrie Truelove said "It is most certainly a boost for the whole company which we should all be proud of. It was so good to have this recognition both professionally and personally, but I could only lead Everycare in my slightly alternative management style because of the whole Everycare team, who are always so supportive and positive."
If you would like more information about Everycare (Wessex) Ltd please call 01305 257777
Photo : supplied by Everycare – L to R : Lorrie Truelove – Everycare and two Registered Managers.
With around 100 members any business in Dorset with less than 30 employees can join Dorchester Chamber for business for £60p/a (no VAT).