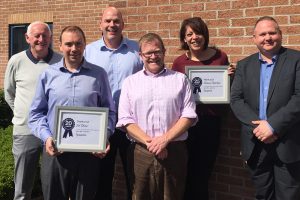 This month Grapevine celebrated not one, but two significant work anniversaries. Donna Fletcher (Account Manager) and Ed Shaw (Operations Manager) have been with the company for 25 and 20 years respectively.
Both Donna and Ed's history with the company goes back to the days of their retail stores in the 1990's. They've each made a significant contribution to Grapevine's evolution as a business, from their early years as a mobile reseller to becoming a fully integrated telecoms and IT service provider.
Managing Director, Pete Boby expressed his gratitude for Donna and Ed's commitment to the company. "The most important part of any organisation is its staff. Customers and suppliers alike thrive on dealing with people they know and trust. Donna and Ed have both worked at Grapevine for over half of their lives – Donna for 25 years and Ed for 20 years – this is an absolutely wonderful achievement. I would like to congratulate them both on their dedication and loyalty and thank them for all their hard work over the years."
Donna reflected on 25 years with Grapevine. "I enjoy every aspect of my job and it has changed dramatically over the years. I enjoy working with my Grapevine family even more and that's the main reason I've been here so long".

Ed was similarly nostalgic. "It's been an interesting journey from being an assistant at our shop on Poole High Street aged 20, to managing all our purchasing and billing 20 years on".
Recent years have also seen milestone anniversaries for other members of the Grapevine team; James Spinks (20 years), Nicola Boyt (10 years) and Ritchie Whiting (10 years).
If you would be interested in joining the Grapevine team please visit www.grapevine.uk.com/careers for current vacancies.