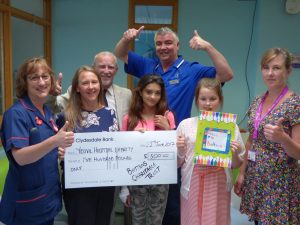 The Charitable Trust of Battens Solicitors has donated £500 to the Children's Ward at Yeovil Hospital, which will go towards buying a wide-ranging provision of arts and craft equipment to engage and help children maintain their motor skills and concentration.
Some children have to stay in hospital for long periods of time and research has shown that creative and interactive activities can speed up their recovery. Children will also experience satisfaction at being able to use their creativity and make products.
The products will be particularly useful for sick children who have to stay in hospital on special occasions, such as Christmas, birthdays and other family occasions. They can use the equipment to create displays, gifts and cards and to celebrate the occasion despite being stuck in hospital.
James Kirton, Head of Fundraising, Yeovil Hospital Charity, said the donation makes a  real and tangible difference for patients.
"We are going to use this donation from Battens Charitable Trust to fund some arts and crafts equipment for the children's ward and this will provide children with hours and hours of entertainment and distraction at what can often be a difficult time for them away from home.
"Donations are not always used to fund big projects like new scanners and new facilities; it is often the small things that can make a patient's life a little easier or their time in hospital a little more comfortable. Our Play Leader will use this new equipment to make children feel less anxious about their stay in hospital."
Ray Edwards, a director at Battens Solicitors and a Trustee of its Charitable Trust said the Trust was delighted to make the donation to the Children's Ward at Yeovil Hospital. "Our thanks go out to everyone who has supported our Charitable Trust. It has become greatly respected for its community focus over the years, but without the generosity of the people who donate to it, we would not be able to help fantastic causes like this."
Battens' Charitable Trust was set up in 1985 to support local initiatives, charities and other worthy causes. Contributions are made by Battens Solicitors and by legacies left by Battens' clients who wish to retain flexibility in the money they leave to charity, or who simply want to benefit local causes but are uncertain which ones to donate to.
The Trust has donated more than £500,000 to good causes in just over 20 years – a phenomenal achievement.
If you would like to make a donation to Battens Solicitors' Charitable Trust or apply for a grant, please contact The Trust's team by emailing or by calling 01935 846000.