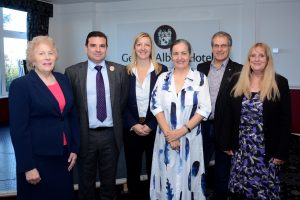 Members from Yeovil, Bridport and Sherborne Chambers of Commerce were our guests at this month's networking breakfast hosted by the George Albert Hotel at Evershot.
This breakfast's theme focused on how local chambers operate – not only being a voice for business but by promoting trade in the area and links between business. To mark this collaborative event the guest speakers were Steve Farnham, President of Dorchester Chamber for Business;  David Woan, President of Yeovil Chamber of Commerce; Jane Wood, Chairman of Sherborne Chamber of Commerce and Debbie Bond, Vice President/Joint Secretary, Bridport Business Chamber.
Retention, affordable housing and parking were among our speakers' key topics, who also raised shared concerns regarding the impact a lack of affordable accommodation is likely to have on local businesses as they may not be able to recruit or retain local young talent.
To encourage networking, all the tables were facilitated by members of Dorchester Chamber's Executive Committee, attendees also had the opportunity to network with others from the wider Dorset business community.
All of £150 profit from this event will be donated to The Dorset and Somerset Air Ambulance, it's critical care team provide cover for 19 hours a day, 365 days a year. Below are some fabulous photos of our attendees taken during the morning by our official photographer, Siân Court of SKC Photography.
Forthcoming events
Don't miss our forthcoming AGM September breakfast on Wednesday 7th November at The Keep Military Museum, followed by our November Good Causes Breakfast at Shire Hall on Tuesday 13th November. Click on forthcoming events for more details and to book your place.