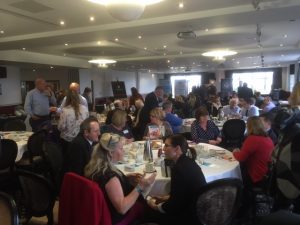 Nearly 100 attended the breakfast organised by Dorchester Chamber for Business, Yeovil Chamber, Sherborne Chamber & Bridport Chamber at the George Albert near Evershot.
President Steve Bulley was delighted with the turnout and said: "it's wonderful to see the room filled with great conversations".
The event was the second inter-Chamber networking breakfast run by the combined chambers with the aim of driving business across the local area.
Don't miss our next breakfast on Tuesday 4th April (7.45-9am) at the Duchess of Cornwall in Poundbury. To book your place visit www.dorchesterchamber.co.uk/events/april-networking-breakfast-2/