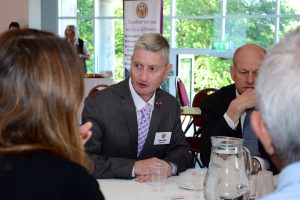 Many thanks to all members and guests who attended the Meet the Chamber June Breakfast, sponsored by our hosts Kingston Maurward College.
With the end of the school year soon approaching the event focused on education and the links between training providers, young people and business with talks from key partners on initiatives taking place.
Lucy Bowden, Dorchester Chamber For Business, spoke passionately about the Chamber's RETAIN Campaign – encouraging the business community to take advantage of the support offered by the Chamber. Other speakers were Richard Firth, Education Co-ordinator with Dorset County Council and The Careers & Enterprise Company, Catriona Brady, CEAIG Coordinator at Thomas Hardye School and John Firth, Cross College Lead – Apprenticeships at Kingston Maurward College.
More details on RETAIN can be download by clicking on the link DCFB Retain Campaign
You said we listened
Following our recent survey results – with member stating they wanted more networking opportunities at our events – we extended this breakfast to enable more time for businesses to get to know each other. Our first new speed networking session got off to a great start at Kingston Maurward with many members telling me what a great idea they thought it was and adding that they would certainly be taking advantage of this in the future.
The new one-to-one, 10-minute meetings will now take place at the end of each breakfast event to put more emphasis on the networking benefits of Chamber membership. Members will now have opportunity to book an initial session with potential contacts in advance of each breakfast.
Don't miss our fantastic slideshow
Below are some fantastic photos from the Kingston Maurward breakfast taken by the Chamber's official photographer, Siân Court of SKC Photography. If you would like to purchase a photo from this slideshow please contact Siân.