Dorset Chamber has called a personal message of support from the Queen a 'huge morale boost' for business.
She praised the business support organisation for the contribution it is making with fellow chambers in helping firms, championing trade and rebuilding communities.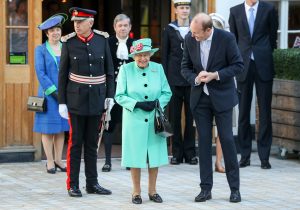 Her support came in an open letter in her role as patron of the British Chambers of Commerce (BCC) as more firms begin to go back to work and shops reopen.
Her Majesty the Queen said: "At a time of great difficulty for many, it is heart-warming to see the civic response and generosity of so many businesses, small and large, to the challenges posed, whether supporting the health sector or vulnerable communities.

"As Patron of the British Chambers of Commerce, it gives me great pride to see the contribution you and your members are making to help firms, champion trade and rebuild communities."
Ian Girling, Dorset Chamber chief executive, said: "The Queen's personal message of support is a huge morale boost to our business communities at this complex and sensitive time. We are grateful that Her Majesty has recognised the crucial role chambers of commerce play supporting businesses and communities through the pandemic, and as we restart, rebuild and renew the economy. This Royal praise and support is for all of the many businesses in Dorset who have shown their typical resilience in the face of this crisis."
On Windsor Castle headed notepaper the Queen also wrote: "I wish all businesses every success in their endeavours in the weeks and months ahead."