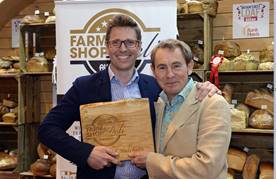 Congratulations to Chamber members, Brace of Butchers, which have entered into the nationally recognised 2020 Farms Shop & Deli Awards.
The well-known Dorchester Butchers won the award in  2017, bringing home to Dorset Best Newcomer of the Year and was also a finalist in the Best Butcher of the Year.
This year Brace of Butchers, based in Poundbury, is hoping for more success but needs you to vote for them.
Judges and possibly BBC R2 Nigel Barden will be coming down later in the year, he did in 2016 and loved the offer presented in Dorset . . .
"We at Brace of Butchers would love to bring home an award for Dorset on behalf of the whole food and drink sector here and of course the Staff and Customers," said Tom Avery, MD.
Don't miss your chance to vote, visit https://www.farmshopanddelishow.co.uk/awards-directory-2020#/brace-of-butchers/awards-12140538