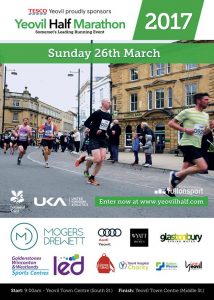 Organisers urgently need £5,000 to fund additional features to take this rapidly growing event, which takes place on Sunday 26th March, to the next level.
The profile of the 2017 event is significantly enhanced by more sponsorship and the presence of national branding – a further endorsement of Yeovil Half Marathon as Somerset's leading running event for people of all ages and abilities.
But the Yeovil-based organisers need more help.
In addition to participation from local brands and businesses, Tesco and Audi are on board, each adding a national presence to this event.  This year's marathon is expected to top 2,000 runners, each of whom will bring an average of two people supporting each runner from the sidelines.  This will see over 6,000 people in Yeovil on Sunday 26th March.
The additional features requiring sponsorship involve a 12sq m outdoor TV screen plus crew, harnessing the latest technology to display a live video feed from two aerial drones and a camera aboard a vehicle travelling with the leading runners.  The big screen will also feature timing chip technology to plot the position of every runner on a real-time map, enabling supporters waiting in Yeovil town centre to track their progress to the finish line in Ivel Square.
In addition to exposure for your business on the big screen on the day, and other benefits detailed in the attached prospectus, anyone donating £500 or more towards these additional features, will receive either 2 free places in the half marathon OR a Family Bundle* for every £500 donated.
As well as funding required for the event enhancement, other sponsorship opportunities and the benefits are available.  For more details please contact the race organiser
Steve Elliott of Total Buzz Events on 07815 121548 or 
*A Family Bundle comprises 1x free place in the half-marathon + 1x free place in the ladies' race + up to 2x free places in the kids' race.