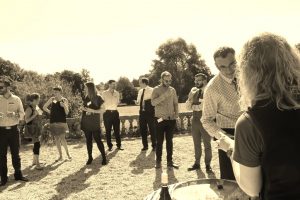 Join us for some cider tasting and lunch in the sun – networking with local businesses at our Last of the summer lunch, on 15th September at Home Farm in Yeovil.
For those of you who have not yet attended one of our seasonal events, this is one of the most popular in the chamber events calendar attracting 30+ people both members and non-members. We welcome anyone in business looking to network and make new contacts in a friendly and relaxed environment, so ensure that you bring plenty of business cards.
Proudly sponsored by Porter Dodson, this event is in association with the local charity 'School in a Bag'.  Drawing on the expertise of Chris Worledge from Ham Hill Cider, Chris will be teaching us about 'real' Somerset cider and inviting us all to sample this award winning cider with various cheeses.
As part of this event, you have an option to support the local charity School in a Bag by donating £20 towards your ticket price, which will allow you to pack your own school bag for a deprived child somewhere in the world. You can even track this bag to whatever country it ends up. But for those who don't want to pack a bag please use the voucher code: nobag to apply £20 discount on your ticket price.  This will become available at the checkout process during the section you enter the billing address – look out for the box that reads Special Offer Details.
For more details and to book a place visit: http://www.yeovilchamber.org/events/chamber/last-of-the-summer-lunch-.htm