We are an affiliated member of Dorset Chamber Of Commerce & Industry. Here's the latest update from the county chamber…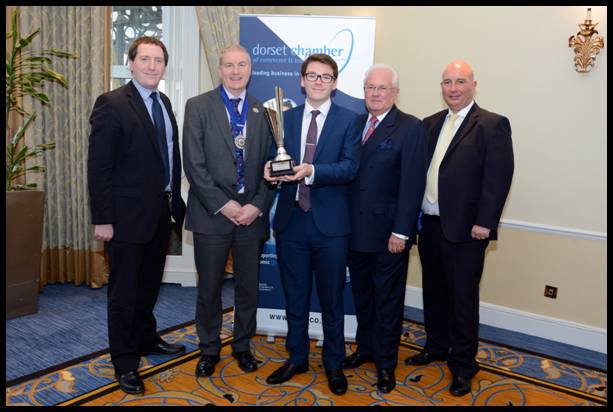 At A Glance
World-famous expedition scientist gives inspirational talk at Dorset Chamber of Commerce & Industry's annual President's Lunch.
Top apprentice named after record-breaking number of entrants from 34 employers in the county.
Tribute paid to the late pioneer whose dream was to deliver world's most spectacular prehistoric visitor attraction to Dorset.
A Summary Of The Recent DCCI President's Lunch
One of the world's top expedition scientists shared his inspirational experiences with 150 businessmen and women in Dorset.
Guest speaker Dr Mike Stroud OBE captivated guests at the Dorset Chamber of Commerce & Industry's (DCCI) annual President's Lunch.
He recounted physical challenges in the world's most inhospitable places, including the longest unsupported polar journey in history.
Drawing parallels with how to run a business, Dr Stroud spoke of how vision and focus enabled him and fellow Polar explorer Sir Ranulph Fiennes to repeatedly achieve mission success – and raise millions of pounds for charity in the process.
Dr Stroud, who lost an incredible three stone in weight in 95 days crossing the Antarctic continent in deadly freezing temperatures of up to -100 Celsius with Sir Ranulph in 1992/93, shared a motivational tip for DCCI members.
He said: "When you have an idea and think 'I can't do that', do try a quick word substitution and try the 'can't I do that?' Give it a go and quite often you might succeed better than you might think."
A world authority on human endurance and nutrition, Dr Stroud's research is used globally and is the author of Survival of the Fittest.
Accompanied with photographs of his feats around the globe, the talk came after David McNair, the DCCI President, gave a keynote speech to members and civic dignitaries at the Highcliff Marriott Hotel, Bournemouth.
David touched upon the impending referendum on the UK's membership of the EU and economy: "This is an extremely important issue for businesses and DCCI will be working hard to ensure our members have the information they need to make an informed decision through a series of events and business polls.
"With regard to the economy, there is no doubt we still face challenging times and DCCI will continue on its mission to help provide Dorset businesses with an environment in which they can grow and flourish."
David, Hospital Director at Nuffield Health Bournemouth, referenced Dorset's ageing population, which is expected to rise to more than 800,000 by 2023, saying private healthcare provider Nuffield Health is committed to helping people combat heart disease.
DCCI's commitment to supporting apprenticeships in the county, of which there were 8,790 in the 2014/15 academic year, was underlined with the annual Warde Apprenticeship Award.
Jack Bull, an "outstanding" higher level apprentice in financial services with JPMorgan Chase in Bournemouth, took the honours.
He was among a record 49 entrants from 34 employers in 21 different sectors, from engineering to digital. Entries rose by a third on last year, continuing year-on-year growth.
Award sponsor Geoff Warde MBE, a local businessman and former DCCI president, was on judging panel with Ian Girling, DCCI Chief Executive, and Rod Davis, Chief Executive of the Dorset and Somerset Training Provider Network.
Three apprentices were highly commended – Charlotte McGlaugin, an advanced apprentice with childcare Sunny Day Nurseries, James Miller, an intermediate apprentice with Inspire Professional Services and Tyrone Rutherford, an advanced apprentice with Cobham plc.
After the event, Ian said: "We read inspirational stories of how apprenticeships have given young people self-confidence, direction, focus and huge pride in the work they do, as well as bringing on their technical and vocational skills.
"We also saw incredible examples of voluntary work and young people really getting involved in and supporting the community in their spare time."
The President's Lunch raised £1,036 in a silent auction for LV=Streetwise, the DCCI's nominated charity. LV=Streetwise teaches youngsters how to safe on our roads.
On a sombre note in the room, tribute was paid by Vincent Boni, Senior Vice President at the DCCI and Managing Director of Newsquest Dorset, following the sudden death of the "pioneer" whose ambition was to to build the world's most spectacular prehistoric visitor attraction.
Michael Hanlon, 51, who worked closely with DCCI and spoke passionately about his vision to scores of members attending DCCI's Chief Executive Lunch last September, was Founder and Chief Executive of Jurassica Project.
"We have all been touched," said Vincent. "Despite his passing, that legacy will continue. Our thoughts are with his family at this time."
Poignantly, a photograph of Michael, one of the UK's top science writers, was included in the event programme, by the words "remembering Michael Hanlon…a true pioneer."
Jurassica, a registered UK charity, will reportedly cost £80m to build and is projected to open in 2021, attracting 600,000 visitors per year, at a quarry on the Isle of Portland.
DCCI, which has 800 members and is widely regarded as the voice of business in the county, has thrown its weight behind the job-creating plan.
Guests of the President on the top table were the Mayor and Mayoress of Bournemouth, Councillor John Adams and Mrs Suzi Adams, and the Deputy Mayor and Deputy Mayoress of Poole, Councillor Peter Adams and Mrs Brenda Adams.
Sitting with them were David, Vincent and DCCI Junior Vice President Paul Tansey of Intergage.