The Dorset Chamber is set to hold a round-table event with business leaders to explore ways to support high street retailers as part of its Revitalising the High Street campaign.
It comes as the organisation calls for radical ideas to save the high street, insisting broader strategic thinking is required to breathe fresh life into the retail sector in town centres.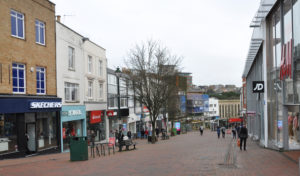 Dorset Chamber chief executive Ian Girling said: "For some time now the high street has been hit by a perfect storm of changing consumer tastes and habits, the rise of online shopping and longstanding problems with business rates. The sluggish economy, falling town centre footfall, out of town shopping and issues surrounding town centre antisocial behaviour, homelessness and begging problems have all also had a part to play.
"Many retailers have displayed great resilience, innovation and entrepreneurialism to adapt and keep the high street alive. However the high street needs greater support if it is to survive."
The Chamber is calling on local authorities, BIDs, chambers of commerce and other stakeholders to come together to focus on actions to address these various issues and develop a county wide town centre vision, as part of its new campaign.
Mr Girling added: "To date, there have been too many 'sticking plaster' solutions, not addressing the underlying issues. As we look to the future, we need to be bolder with our thinking, and radical ideas and broader strategic thinking are required. This includes the long overdue requirement for a radical overhaul of business rates and key organisations working more closely to from a strategic vision.

"Decisive action is urgently needed to address the fundamental challenges facing the sector but also consider ways to harness new trends, capitalise on opportunities and stimulate growth."
Mr Girling is to write to Chancellor Sajid Javid and Dorset MPs and is drafting in support from the British Chambers of Commerce (BCC).
Dr Adam Marshall, director general of the BCC, said: "The Government has an early opportunity to demonstrate that it is listening to business communities at its Budget in March, and it needs to cut the crushing up-front costs that are holding so many firms back. We will be pressing the case on behalf of the Dorset Chamber and others nationwide at the highest level for measures to give businesses the breathing room and support they need."
More information about the campaign can be found at the Dorset Chamber's website.
The Chamber is also encouraging businesses to be positive and forward looking with its #GetBusinessDone campaign now that the UK has left the European Union.